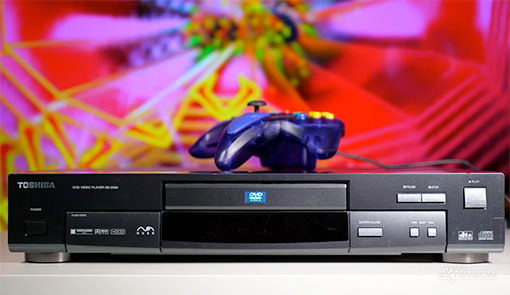 Retro and classic gaming news site Time Extension has put the spotlight on NUON via a new article titled "Nuon, The DVD Player That Tried To Be A Games Console."
In it, author Ashley Day covers the history of the platform, gives a brief overview of each game in the NUON's small library, offers advice on purchasing a NUON DVD player, games and accessories in 2023, and dives into whether it's a platform worth investing in.
The story also features two interviews: one with yours truly as the resident NUON enthusiast and one with Bill Rehbock, who was vice president of third party development in VM Labs. For longtime fans of the platform, this will likely be the most interesting part of the piece, and Rehbock reveals some interesting behind-the-scenes information regarding the Korea-exclusive Crayon Shin Chan game and some of the many unreleased games that never saw the light of day.
I highly recommend giving this one a read, as you're bound to learn something new. Check it out!
February 8, 2023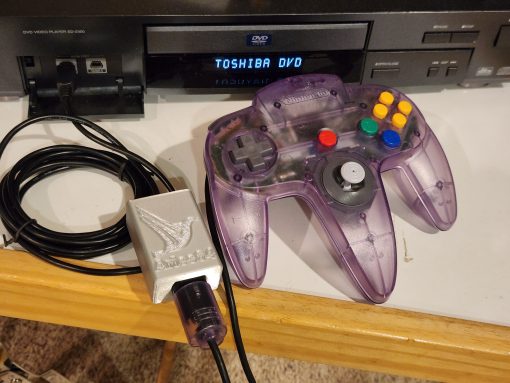 Pre-orders are now open for the Aries64, an adapter from Songbird Productions that allows NUON users to connect any Nintendo 64 controller to their NUON-compatible DVD players.
The first run is limited to 125 units and expected to ship beginning on March 15. According to a post from Carl Forhan of Songbird in the NUON-Dome Discord channel, sales have been brisk, with about 20 sold in the first hour alone.
To preorder yours, visit the product page on the Songbird website. I've got one on order and plan to put it through its paces, so stay tuned for a review here on N-D soon.
Here's the product description from the Songbird website:
Introducing the Aries64 for your NUON DVD game system! The Aries64 connects to the NUON controller port on your DVD unit on one end, and on the other end, you can plug in any Nintendo 64 controller (first party or third party) and use it on all your NUON games! Includes full support for one analog stick, D-pad, and all action buttons. The NUON button is mapped to the Z trigger.
The connector is a 4-pin firewire, and will fit snugly in the NUON controller port with the indented side up (see photos). The cable is approximately 7? long. The Aries64 has been confirmed to work on the Samsung N501 and Toshiba SD2300, and should work equally well on all NUON systems with controller ports.
December 28, 2022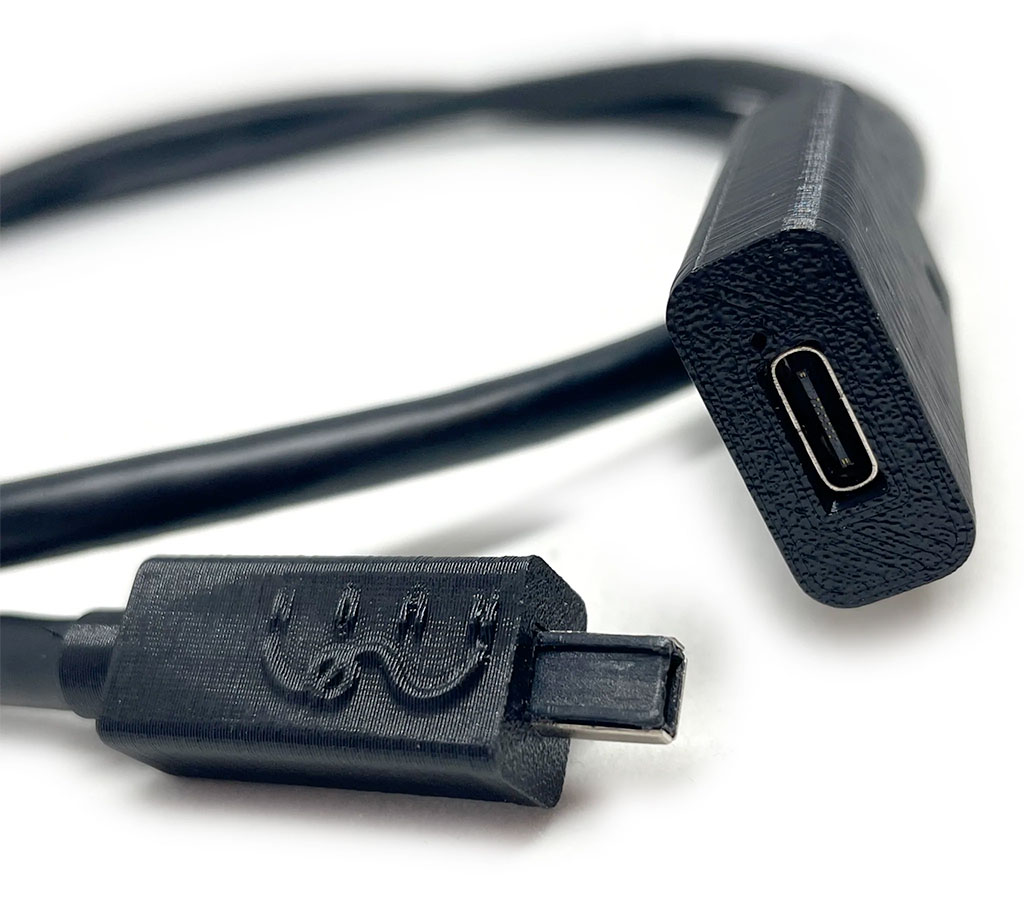 NUON controllers have become a rare commodity over the years, which has driven eBay prices into the hundreds of dollars for certain models (remember the days of $15 HPI Warrior controllers?).
With interest in NUON on the rise thanks to Songbird's re-releases of Iron Soldier 3 and FreeFall, cracked authentication and new development on the NUON emulator "Nuance," two solutions for the controller issue have emerged to help gamers get hands-on with the NUON at a more affordable price.
The first to market (well, pre-order at least) is the NUON USB from ControllerAdapter.com. This $60 adapter will let you connect a wide array of USB gaming controllers to your NUON-enhanced DVD player, including the Logitech Wingman PC controller, which is nearly identical to the Logitech Gamepad for NUON:
You can also see the adapter working with a PlayStation 5 DualSense controller here.
Here are the features of the adapter, according to the manufacturer's website:
Features:
Simulate Nuon controller with all 14-buttons and analog inputs
USB controller as Nuon controller
USB HID keyboards/mice as Nuon controllers
Firmware Updatable
Future:
Second analog and spinner input for Tempest 3000.
Emulated Nuon splitter multi-tap with USB Hub.
Possible rumble implementation for home brew.
Possible serial communication for developers.
Compatible:
Any USB controller with X-Input mode
8BitDo 2.4g USB Receivers
8BitDo USB Wireless Adapters (Red/Black/Gray)
Xbox (OG/360/One/Series)
PS Classic USB Controller
PS4 DualShock 4 Wired
PS5 DualSense Wired
Sega AstroCity Mini USB Controller
RetroBit Sega Genesis 6-button USB Controller
Includes:
To get a NUON USB of your own, get on the Pre-Order List at ControllerAdapter.com.
The other controller solution in development is an N64 controller to NUON adapter coming soon from Songbird Productions. According to a recent tweet from developer @wireengineer, the adapter is now complete and currently being tested on different games and NUON player models.
Keep an eye on the Songbird Productions website for news on this adapter. And we'll post about it here on NUON-Dome when it's available, too.
September 20, 2022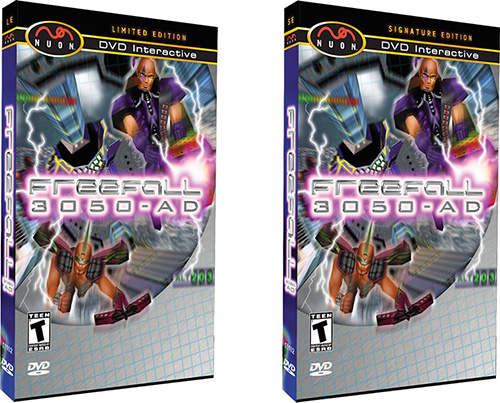 Today, Songbird Productions announced pre-orders for a limited re-release of FreeFall 3050 A.D., a game that went to retail production for the NUON DVD platform in 2000, but has recently been back in the spotlight after an originally-canceled Xbox port was unofficially released as open source, followed by an official port of the game released on Steam, both in 2019.
For NUON enthusiasts, this new Songbird version comes in two flavors:
Limited Edition ($74.95 until Oct 24, then $79.95):
Professionally replicated DVD including Amaray case and 28-page manual
Licensed from Total ArKade Software Ltd
Game is identical to the original version
Compatible with NUON IR remotes as well as NUON controllers
Manual upgraded with color interior
3 pages of original concept art included in the manual
Signature Edition ($99.95):
Includes all features above from the Limited Edition, plus:
SIGNATURE EDITION printed on the Amaray case insert
Hand-signed by Freefall 3050 AD producer Tony Takoushi
Includes 8.5″ x 11″ fold-out mini-poster and acrylic pin featuring Freefall 3050 AD artwork
Limited to only 50 units, limited to one per customer.
Additionally, the poster and pin are available as a separate purchase for $9.99.
Pre-orders are expected to ship in November 2022. For more information on the game, check out the NUON-Dome review, as well as some gameplay footage below from Atarian Web 2000 on YouTube:
May 29, 2022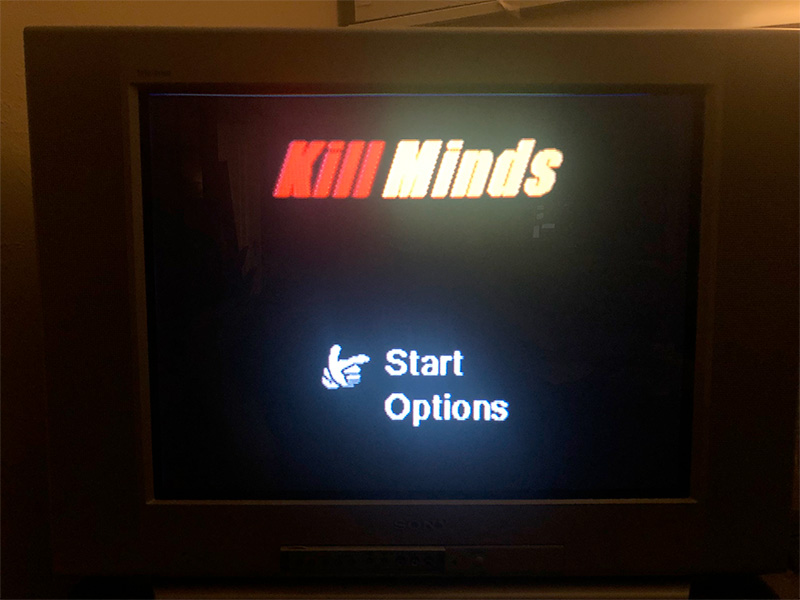 The NUON community reached a big milestone today thanks to a programmer named "EdgeConnector." According to NUON homebrew developer Gameblabla, EdgeConnector cracked the NUON authentication keys, allowing homebrew games to be burned to DVD, rather than using the old NUON.CD procedure that restricted homebrew to the DVD-N50x and RCA model NUON players.
With this development, Toshiba SD-2300 and Samsung DVD-N2000 users can load homebrew NUON games for the first time, beginning with Gameblabla's "Kill Minds."
Want to learn more? Jump into the discussion over in the NUON-Dome Forums!