News & Rumors - 06/25/01
Know Your NUON DVD Players
Since the N501 has begun to hit stores, the question "Which player is better?" has begun popping up from people looking to get the player that best suits their needs. In order to (hopefully) assist in this matter, we've begun assembling a comparison page which stands up the 3 current NUON decks side-by-side so you can see what you get with each.

The page isn't totally complete, so if you think of something that you'd like added to the list, let me know!
Fast Forwarding MP3s
An excellent little easter egg that's been discovered in the VLM of the Samsung DVD-N501 is the ability to fast-forward and reverse MP3 files! It requires a bit of controller trickery (and an analog stick), but it's well worth the small effort! Get the scoop on the Codes page.
Sale on NUON-Dome Mousepads
Good news if you're looking for a new mousepad :) From now till June 30, 2001 you can grab yourself a NUON-Dome logo mousepad for only $6.99. Show your NUONism on your desktop!

Hit the N-D Store to grab one for yourself.
---
News & Rumors - 06/21/01
NUON Store Launched
Not to be confused with our very own NUON-Dome store, the official NUON site now features its very own store, complete with games, peripherals, hardware and even NUON t-shirts! The NUON Polo shirt looks especially cool. Head over to the NUON.tv Store and give it a look.
---
News & Rumors - 06/20/01
VML Speaks About IS3 Bug(s)
Just caught this announcement over on the Forums regarding Iron Soldier 3 and the compatibility issue that seemed to be prevalent with the game on the older N2000 units. As a result, the game is going to be delayed until the game gets up to 100% compatibility. The complete message follows:

Immediately after the release of "Iron Soldier 3", VM Labs learned of a problem that affects the performance of the game on a limited number of NUON enhanced DVD players. It is important to VM Labs that issues of compatibility do not burden consumers. Accordingly, VM Labs has temporarily blocked distribution of "Iron Soldier 3" and they are working on plans to begin shipping as soon as possible. In addition, VM Labs has commenced a more rigorous testing program and enhanced their software release policy with their duplicators.

VM Labs will contact the small number of "Iron Soldier 3" customers who received the product before an error was found. Details related to replacing the software will be provided to them at that time. Additional information related to a new release date for "Iron Soldier 3" will be posted to the official NUON web site at http://www.nuon.tv as soon as possible.
Australian NUON Revisited
Just a quick (but important) correction to yesterday's rumor about the possibility of an upcoming NUON DVD player for Australia. The quote came from Samsung Australia, not TransACT. TransACT is apparently working on a set-top-box similar to the Motorola Streamaster, however. Look for more on both of these products in the near future.
---
News & Rumors - 06/19/01
Inside the NUON prototype controller
Out of curiosity and perhaps thinking that the wiring up of an N64 controller to use on a NUON DVD player may not be so difficult, I took to opening up the prototype NUON controller that I picked up at E3. The controller itself is actually an Interact Superpad 64 controller wired up internally to make it work for NUON. This was used for demo purposes at past trade shows (check out this picture to see it in action) and are generally one-of-a-kind items.

But enough about that. Upon removing the back half of the casing, I found what looks to be either a custom PCB or a highly modified one - there are even 2 tiny little NUON chips on the board. So, while it seems that hooking up an N64 controller to NUON requires a bit more than a simple re-wiring, the insides do make for a cool picture or two, so I broke out my digital camera. Observe:

Inside picture 1
Inside picture 2
NUON in Australia?
We'll file this in the "rumor category" for the time being, a bit of info passed along from Skip in regards to NUON in Australia. This apparently comes from TransACT, who are bringing out a NUON set top box.
"Yes we will be releasing a 'Nuon enhanced DVD player into the Australian market.

Unfortunately, I do not have an exact date for this unit.

We are however, looking to release it before the end of this year.

It will have similar features to those sold in the current US market.

I'm sorry I cannot be more accurate with dates on this, but this is all the information I have at the present moment."
Something for the Aussie NUONites out there. More on this as it becomes available.
N705 Finally Arrives!
Well, the first look at the player is available at least. NUON World has a preview of the upcoming European NUON DVD player, complete with multiple images. Unfortunately for non-german speakers it will be unreadable, but an english translation should be available shortly. For the time being, you can at least go check out the pictures and enjoy. NUON is going worldwide!
DVD News - 06/19/01
StarWars Episode I Confirmed!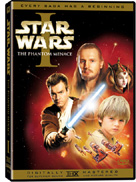 The Force is with DVD

On October 16, Lucasfilm Ltd. and Twentieth Century Fox Home Entertainment will begin the worldwide release of Star Wars: Episode I The Phantom Menace on DVD. The highly anticipated arrival of Episode I marks the first film of the Star Wars saga to debut on DVD.

Enthusiastic fans of the film will be rewarded for their patience. Clocking in at about 480 minutes in length, it features over six hours of additional bonus material, including brand new visual effects sequences executed just for the DVD release.

Here's what the two-disc set will feature:
The Phantom Menace, mastered by THX for superior sound and picture quality, presented in Anamorphic Widescreen and Dolby 5.1 Surround EX (English), Dolby 2.0 Surround (English and Spanish), and Dolby 2.0 Surround (French, for Canadian release)
Audio commentary by Writer-Director George Lucas; Producer Rick McCallum; Co-Editor and Sound Designer Ben Burtt; Visual Effects Supervisors Scott Squires, John Knoll and Dennis Muren; and Animation Supervisor Rob Coleman, offering personal insights into the making of the film
Seven never-before-seen deleted scenes with full visual effects completed just for the DVD release
"The Beginning" -- an all-new hour-long documentary culled from over 600 hours of footage offering unprecedented access inside Lucasfilm and ILM during the making of Episode I
Multi-angle storyboard to animatic to finished film feature, that lets you flip through the various phases of development of key action sequences
Five behind-the-scenes featurettes exploring The Phantom Menace's storyline, designs, costumes, visual effects and fight scenes
The popular "Duel of the Fates" music video that debuted in 1999
All 12 parts of the Lynne's Diaries, the web documentaries that first appeared here at starwars.com
Galleries of theatrical posters, print campaign, and never-before-scene production photos
Downloaded by millions from starwars.com, the original theatrical teaser and launch trailers, plus seven TV spots including the "tone poems"
The two-disc set is priced at $ 29.98 in the U.S. and $ 41.98 in Canada.
Dogma: SE Release Imminent Good news for View Askew/Kevin Smith fans, the much-anticipated Special Edition release of Dogma is just days away (June 26th to be exact), and true to form for VA DVD's, this one is *packed*. Here's the specs:
• Color, Closed-captioned, Widescreen, Dolby
• Commentary by director Kevin Smith, Ben Affleck and Jason Lee
• Commentary by producer Scott Mosier and Vincent Pereira
• Commentary by director Kevin Smith, Producer Scott Mosier and View Askew Historian Vincent Pereira
• Complete Set of Storyboards from Three Major Scenes
• 100 Minutes of Deleted Scenes with View Askew Crew Intros
• Cast and Crew Outtakes
• Jay and Silent Bob's Secret Stash Spot
• Saints and Sinners Talent Files
• Bonus! Follow the Buddy Christ for More Hijinks with Kevin Smith, Ben Affleck, Jason Lee, Jason Mewes and More!
• Talent Files (Kevin Smith, Ben Affleck, Matt Damon, Linda Fiorentino, Chris Rock, Alan Rickman, Jason Lee, Salma Hayek and Jason Mewes)
• Widescreen anamorphic format• Number of discs: 2

Amazon is taking preorders on this title for $22.46 as of 6/19/01. Be sure to check out the News Askew review for the full scoop on this excellent DVD!
---
News & Rumors - 06/13/01
Amazon Adds New NUON Goods
Amazon.com has updated its NUON Store with Iron Soldier 3, Space Invaders, Monopoly and the Logitech Gamepad. The N-D Store has also been updated with the products as well. Be sure to head on over and show your support for the latest NUON products!
IS3 Passwords Added
The first 14 passwords for the Easy difficulty of Iron Soldier 3 are now available over on the Cheats page. Use these if you're getting frustrated on a certain level :). More to come! If you've got more or some on a different difficulty, feel free to contribute.
Special at DVD-4U
Got this in an email a few days ago. Good deal if you're looking at getting any of DVD International's other "DVD Games":
Two new games for your Nuon DVD player!

Finally! Two new games are ready to ship! Space Invaders XL and Iron Soldier 3 Check them out at now. Also, for 1 week only, with the purchase of any Nuon game or HPI Gamepad, you may purchase three other DVDs from our catalog ( Tender Loving Care, I'm Your Man and Elephant Parts) for only $2.99 each! What a deal!!!
---
News & Rumors - 06/03/01
New Games at Online Retailers
Per our report yesterday, the new batch of NUON games has started shipping. Online stores such as Amazon and DVD International have listed the games, with IS3 and SIXL set for the 4th, and Monopoly being rumored to be available on the 19th.

Here are the listings for Space Invaders XL and Monopoly at Amazon. DVD International has IS3 and SIXL listed.
---
News & Rumors - 06/02/01
New NUON Games are Shipping
As of this writing, Iron Soldier 3 and Space Invaders XL are now shipping. The previous news of Monopoly being ready by the end of the month was really a mix up where Monopoly should have been IS3. Good news for everyone that has been waiting for this title to finally arrive (and who hasn't?). Be sure to check out the reviews of IS3 and SIXL if you haven't yet!
N501 and Best Buy Revisited
While the N501 has started rearing its MP3 and CDR playing head in select few Best Buy locations around the country, the "New DVD Technologies" display which will feature NUON and the N501 won't be rolled out across all stores in the US right away. Stores featuring the display will be staggered and it won't be put up everywhere until sometime next month.

Current Samsung N501 players that are in stores appear to be for display-only, though at least one person was able to pick one up on a fluke. Good news is that BB will be featuring older titles such as T3K along with the new games like IS3 and SIXL. Should be a good showing for NUON, especially considering the more prominent display of the technology on the faceplate of the N501. Now the player says "NUON enhanced DVD player" on the top left, a larger NUON logo on the top right, and the NUON ports on the bottom.
Take the N-D Survey
In case you missed it, the poll in the left-hand collumn of the page has changed to a mulitple-question survey. Feel free to answer the questions...it'll be interesting to see how things turn out!
---
The Latest - 06/01/01
Reviewed: Samsung N-501
Just a very quick update here to let you know of a review that's been posted by Michael Olshansky @ http://logjammin.org/n501/. Enjoy =)
---
The Latest - 5/29/01
Reviewed: Space Invaders XL
You've seen RealVideo, said "eh" over the screenshots, and now the full review is here to give you the scoop on the latest game for NUON. Click here to read, or head over to the Games Page.
---
The Latest - 5/25/01
RealVideo of SIXL and IS3!
For those who've been waiting to see Iron Soldier 3 and Space Invaders XL in motion, I've posted up 2 new streaming RealVideos (one of each game). As always, find them over on the Media Page, and look for a review of Space Invaders in the coming days.
---
The Latest - 5/24/01
Space Invaders XL Screenshots
The Space Invaders XL review isn't quite ready to go yet, but in the meantime I've posted 11 new screenshots over on the Media page. Hopefully these will provide a bit more insight into gameplay before the review is set.
News from E3 about AirPlay
Here's a bit of information I got while at E3 but forgot to pass along. Eleven Engineering, makers of the AirPlay controllers, had a booth at the show so I stopped to ask about their controller for NUON. Unfortunately, the guy seemed suprised I was even asking about NUON, and said that they were "focusing more on Xbox and PS2." Apparently they've changed their entire business structure so AirPlay for NUON, at least at this point, seems to be no more.
---
The Latest - 5/22/01
Reviewed: Iron Soldier 3
One of the most-anticipated NUON game titles has finally arrived. Does it live up to expectations, or should you throw your hands up in frustration? Read the Full Review and see for yourself!
---
E3 Report - 5/18/01
Logitech Gamepad Being Fixed
Just back from Day 2 of E3 2001, and we've got an update on the Logitech controller for NUON. As mentioned yesterday, the controllers on display are a bit unresponsive when controlling with the analog stick. After speaking with Peter Stern from Logitech, he confirmed that they knew about the problem and were in the process of fixing it before the controllers go into production. After the controller is fixed and given the "thumbs up" from VM Labs, then it's only a matter of days until they go into production and will be available to the public.
Pictures of Some NUON Goodies
Here's a few pictures of some goodies that I picked up from E3. Included is a photo of a prototype NUON controller which, if you've been following NUON for a while, you'll recognize from photos taken at past E3 and CES shows. It's actually a modified 3rd party Nintendo 64 controller, which used to have a NUON logo smack in the middle of it. Also, you'll see pictures of the Iron Soldier 3 and Space Invaders XL disks, an up-close shot of one of the Atari water bottles, and a look at the shirts that Logitech was giving away like mad that featured the NUON logo on the back. Oh, and a few more booth babe pics by request :) Enjoy:
---
E3 Report - 5/17/01
NUON Found!
That's right, although VM Labs doesn't have their own booth at E3, they do have a setup in the middle of the Logitech booth. Featuring Bedazzled, Tempest 3000, Ballistic and Merlin Racing, the display has all Toshiba SD2300 players with (suprise!) the Logitech controller for NUON. This controller is 100% quality, though the analog seems to react slower than normal...I found it difficult to corner properly in Merlin Racing. More playtime will prove how this effects other games, but otherwise this is a great controller.

Here's some pictures of the display, controllers, etc. Gratuitious booth babe pictures included just for fun:

Note the Atari booth...giving out bottles of water with the Atari logo on them.
Iron Soldier 3...
That's right folks, in my hands now is a test disk of the near-finalized NUON version of Iron Soldier 3 (not to mention a copy of SIXL, which I haven't tried out yet). After getting the game popped into one of the SD2300's, I proceeded to give it a good run-through, and took a ton of screenshots. I'll reserve most comments until I get home and give it a proper full preview, but from what I've seen the game is better graphically than the PSX version, and with the "turbo" active, the game is *fast*. The full intro from the PSX version is here and looking great, as are all the menu screens. This game is polished up nicely. Screenshots can be found on the Media page, to keep load times on this page down.
N501 Ready, and Best Buy...
The next-generation NUON player from Samsung, the N501 has already begun shipping out to Best Buy locations across the country. Not all locations have the machines yet, but when they do arrive, expect them to get the *full* NUON treatment, as BB has agreed to give a 4ft section of shelf space exclusively to NUON. The display will feature NUON software, peripherals and information, and will be showcased next to other DVD technology such as Progressive Scan. Iron Soldier 3 and Space Invaders XL will be avaliable for purchase there as well, and should start showing up within the next few weeks.
N2000 upgrade to N501?
A bit of rumored information that passed me by was the possibility of an upgrade for Samsung DVD-N2000 owners to get all the features of the N501. The process would require the owner to open up their player and swap a ROM chip, thus voiding the warranty, and availability would be limited to the "hardcore" NUON crowd. Keep in mind this is not set in stone, but it would be great if it happened.
The "Big Announcement"
Well, unfortunately the announcement from VM Labs that was supposed to take place during E3 is still 2-3 weeks off. While the deal is mostly set to go, some details still need to be worked out. Hang in there folks ;-)
---
News & Rumors - 5/16/01
Live from LA...
Well, it's the day before E3 and we're here in LA to dig any/all possible goodies relating to NUON that can be found. Today, we went down to the LA Convention Center to register and snapped a few cool photos. Later on, we met up with ECM and co. for the GameGo pre-E3 get-together. Not much NUON-related news today, but I'll include some pictures below for your viewing pleasure:

Sorry there's not more to report, but the show hasn't officially started yet. There are some news bits that came out of the pre-E3 conferences, such as Xbox launching at $299 on November 8th, and that GameCube will hit on November 5th. Looks like that will be a month that gamers will have to dig deep if they're looking to get both consoles :-)

More tomorrow!
---
News & Rumors - 5/12/01
Reviewed: NUON Port Replicator
Is the NUON Port Replicator just what you're looking for? Or can you do without it? Or maybe you'll need one in the future when the NUON modem comes around...

Either way, take a look at the new Review and see some thoughts on this interesting accessory for your NUON machines.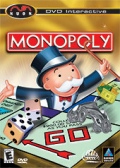 This version's lookin
good.
Details on NUON Monopoly
Once again, the NUON.tv site has been updated, this time with info on the upcoming version of Monopoly. Screenshots look very promising (graphics appear to be nice and high-resolution), as do the features (up to 6 players, 10 different versions, etc).

Be sure to give a look to the updated preview for more, or head over to the page on the nuon.tv site.
New IS3 Screens
Also new on the official site are a bunch of screenshots of the upcoming Iron Soldier game for NUON. You can get to the page here, or download a zip file of high-resolution images here.
---
News & Rumors - 5/10/01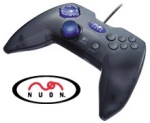 Go snag one now!
Logitech Gamepad Now Available
The Logitech Gamepad for NUON is now available for purchase over on Logitech's website, using this link (you'll need to select your country and language if you've never been to the site before). The price is $29.95, and the finished product looks *really* sharp. The case appears to be a semi-transparent blue/gray, complete with Analog control. Expect a review here on N-D as soon as I get my hands on one, but for now you can take a look at the updated preview.

Thanks to Michael Olshansky for the heads-up on this one.

Less than one week 'till E3...you can bet we'll be at the Logitech booth this time next week!
---
News & Rumors - 5/07/01
Monopoly & Space Invaders May 29th
A bit of info regarding 2 upcoming NUON games, posted to the NUON Forum by Brett206:
DVD International is proud to announce two new games for NUON enhanced DVD players

Monopoly

It's the world's most popular board game brought to life!

Play the classic Property Trading Game from Parker Brothers like never before. Follow all the action as animated 3-D Monopoly tokens respond to dice rolls and move around the board. With Monopoly for your NUON enhanced DVD Player, you'll never have to worry about those lost pieces and who gets to be banker.

Monopoly from Infogrames features:
* Up to six players (human or computer) can play at once.
* Play one of 10 different city versions included or the classic board.
* Vivid animations lets you buy, trade and sell properties in a whole new dimension.
*Play Classic Monopoly or use the quick game rules.

Street Date: May 29, 2001
SRP: $29.98

Space Invaders
Mankind is counting on you to save the world again!

The arcade classic, Space Invaders, is back just the way you remember it! Battle wave after wave of alien attack squadrons as they march down through the scary sky. Play with or against your friend in special cooperative/competitive modes, or go head to head in battle mode.

Space Invaders from Taito features:
* Classic gameplay for one or two players.
* Special game modes such as; invisible aliens, zigzagging shots, moving bunkers and more!
* Multiple classic versions such as; black and white and color.
* Two player Battle mode, a whole new type of head to head gameplay.

Street Date: May 29, 2001
SRP: $29.98

The creators of
TNT speak
Interview with Don McClure
As you may or may not know, Digital Element was the development house behind the NUON version of The Next Tetris that came as a mail-in freebie when a Toshiba SD2300 was purchased. Today, were happy to present an interview with Don McClure, president of Digital Element. He spills the beans on what went in (or didn't go in) to TNT, what's being changed for the upcoming version, and what else DE has in store for NUON.

Head over to the Info page to read it, or just click here.
New NUON Listings at Amazon
A search for NUON over at Amazon.com turns up 2 upcoming NUON products, the Samsung DVD-N501, and the Logitech Gamepad. While the N501 is currently listed as "out of stock," the Logitech Gamepad lists as "On Order; usually ships within 1-2 weeks."

Hopefully these 2 items become readily available soon!
---
News & Rumors - 5/05/01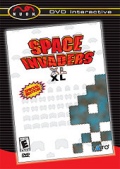 Space Invaders XL
by the end of May?
Space Invaders XL Revealed!
Finally, some concrete info about the NUON Version of Space Invaders has been made available, thanks to a new page on the nuon.tv site. Click here to go directly to it.

Rumor has it that the game is actually quite close to completion and could even be ready to go by the end of May. But, we've seen release dates slip in the past, so I wouldn't count on it. :-)

I've also put up a new Space Invaders XL preview up over on the Games page, with info from the official NUON site.
---
News & Rumors - 5/04/01
Updates at the Zoo
Jeff Minter has updated his site, Yak's Zoo, with quite a lengthy bit about what's new in his world. NUON-wise, he discusses the upcoming VLM Editor:
"... work-wise I have been working on the VLM Editor, a tool which allows one to more effectively build and tweak VLM effects for the Nuon VLM. The editor is probably 90 percent functional now - it does pretty much everything it should do, there are a couple of interface glitches and a bit of tweaking yet to do, but it is actually useful. I used it to create some custom VLM effects for a little outing to a club in Cardiff, where my mate Robin was doing some video projections and invited me along to get in the mix. I didn't have any audio direct into the VLM, so I made a bunch of effects that could be "performed" in realtime using a couple of Nuon controllers. This proved most effective, and when the bank of video projectors in the club covered one entire wall with VLM, it was indeed a wicked buzz ;-).

I'm going to be deploying the VLM again on the 16th of May, at the DNA event - I should have even more effects this time out, because the editor is closer to being finished than it was when I did the Cardiff thang. Come along if you're in that part of the world at that time - who knows, maybe I'll let you waggle my joysticks ;-)."
Click here to visit Yak's Zoo and read the rest.
New T3K MP3
Over on the Media Page, I've linked to the mp3.com listing for "Flash" the tune in T3K by Andre' Meyer. Be sure to check that out!
---
News & Rumors - 5/02/01
Latest on the DVD900
Just a quick snippet of info from Oritron about the DVD900:
"We are still at the stage fine-tuning the Oritron-Nuon DVD player and will annouce after everything finalize."
Doesn't really reveal a whole lot, but at least it looks as though things are still coming along with one of the next round of NUON-enhanced DVD players.
---
News & Rumors - 5/01/01
NUON-Dome Heads to E3
Though VM Labs won't be attending this year's E3 in LA (May 17-19), I will be heading out west to participate in the festivities. I'll scour the booths of all the companies known to be developing for NUON (Nyko, Logitech, Eleven Engineering, etc...) and will be digging all the latest dirt on NUON that I can possibly find. We'll be updating from the road every night with pictures, reports and more, so be sure to check back here starting on the 15th for all the latest.

Oh, and I've heard some rumors about the "Big Announcement" that will be taking place during E3 from VML and, let me assure you, that NOBODY will be dissapointed with the news ;-)
NUON Newsletter Returns
With the return of NUONica comes the second issue of the NUON Newsletter, which you can find here. If you'd like to subscribe to the newsletter, head on over to NUONica and fill out the form right on the main page.
---
The Latest - 4/26/01
New Host
I'm happy to announce that NUON-Dome is now up and running on a new, much faster and more reliable server thanks to the kind generosity of cecilhelton.com. I've been more than aware of the unavailability of the site recently, but hopefully those problems will all be a thing of the past.

Also, now all the Real Video clips over on the Media page are all set up for real-time streaming...no more waiting to download the clip to view it.

So if you've linked to or bookmarked this site using an old URL such as jaguar.holyoak.com/nuon, please update it to point right to www.nuon-dome.com. Thanks!

-
Store Additions
Added the Samsung DVD-N2000, Toshiba SD2300, and Bedazzled to the NUON-Dome store. Check it out.
---
News & Rumors - 4/25/01
Edge Awards T3K
The current issue of Edge Magazine features it's annual "Edge Awards," in which they pick their "Best of..." in various categories. Tempest 3000 has a great showing, as seen from this message from Jeff "YaK" Minter:
They give First, Second and Third awards, and Honourable Mentions in a little bit of text at the top, in several different categories. T3K is featured as follows:

Graphical Achievement:
1: Jet Set Radio
2: T3K
3: Metropolis Street Racer

What they say about T3K:

"An unorthod-ox game designed by an unorthod-ox programmer on an unorthod-ox 'gaming platform'. T3K's vector psychedelia should enthrall the majority of those discernible [I think they mean 'discerning' - Yak] enough to procure themselves a copy of Jeff Minter's latest Red Bull-fuelled creation - unquestionably one of the most visually stimulating experiences of the year".

Audio Achievement:
1: Alien Resurrection
2: T3K
3: Jet Set Radio

What they said about T3K:

"If you could feed screenshots of Tempest into a stereo, and if you could combine it with a trance compilation circa '92, and if you could output the results to a single white tablet that would permanently alter your perception of videogame music, then you still wouldn't be close to the beat-perfect interplay between Jeff Minter's Nuon work and its beat-perfect soundtrack."

Respect and thanks due to T(NT) there ;-).

T3K also got a couple of "honourable mentions" - in the "Game of the Year" category: "Excellent in significant areas and further comfounding the notion that this has been a slump year for games were T3K, Deus Ex, Mr. Driller and Black and White"; and in the "Technical Achievement" section: "T3K provided a stunning demonstration of what the Nuon chip can do when put to good use".

No outright wins, but nonetheless, quite a decent overall showing. I must admit to being a bit chuffed ;-).

/
(:-) - Yak
/
-
N-D Merch
My original 'news' about the NUON-Dome merchandise got accidentally wiped, so just in case anyone is interested, here is the link again. Remember it'll always be available through the "Shop@NUON-Dome" link on the left.
---
News & Rumors - 4/23/01
Extiva Gets Cheaper
Amazon is now offering a great price on the Samsung DVD-N2000. Originaly launched at an MSRP of $399, the Extiva can now be had for a low $219. They've got 'em in-stock and usually ship within 24 hours. Check it out.

And I thought I got a deal getting mine for $350 ;-)
---
News & Rumors - 4/11/01

No NUON
at E3
VML a No-Go at E3
Yes, you read that right - VM Labs will not be exibiting at E3 this year. Fearing being drown out by news from the "big boys," Microsoft, Sony, Nintendo, etc, NUON will not have a display set up. But don't expect Mid-may to be totally silent for new NUON announcements. According to the NUON Forum administrator:
"Our entire third-party software team and marketing team will be at the show meeting privately with developers and key contacts. We plan to have some major software announcements around the time of the show, however we do not need to be exhibiting at E3 in order to release them. I think once you see the scope of the announcements (one of the most significant software announcement to-date) you will realize why it wasn't important for us to exhibit at the show this year."
So hope is not totally lost...and we're left with some important news on a seemingly huge software announcement coming our way. What could it be? Time will tell...
---
The Latest - 4/5/01
Speedball Preview & Syzygy Scans
First up, over on the Games page is a preview of Speedball 2100, including screens and some details on gameplay and game features. Check it out here.

Also new are 5 scans from the Spring 2001 issue of Syzygy Magazine, which feature reviews of Tempest 3000 and FreeFall 3050 AD, and a 3 page interview with Tony Takoushi from TAKS. Take a look at those on the Media page.
---
News & Rumors - 4/4/01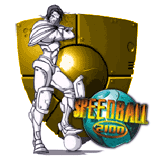 Coming to a NUON enhanced
DVD player near you
Spaceball=Speedball 2100
Yesterday's report which included a new NUON game "Spaceball" was actually a typo on the nuon.tv site. The game in question is actually Bitmap Brothers' futuristic sports title, Speedball 2100. The game, a sequel to the original Speedball which appeared on the Amiga, Atari ST, Commodore 64 and others, features a top-down perspective and full 3D graphics. The 'Brothers also developed such classics as The Chaos Engine, GODS, and Xenon.

Look for a preview soon, but for now you can either stare at the pretty logo or visit the official Speedball 2100 site for more info on the game.
---
News & Rumors - 4/3/01
More NUON Games Made 'Official'
The games page of the official NUON site has updated release dates, which now include an expanded list of upcoming games. Here's the latest list:

Q2 2001
Iron Soldier
aMaze
MYST
Space Invaders
Monopoly
Q3 2001
Bust-a-Move 4
Game of Life
Spaceball
Q4 2001
zCards
Break Out

Note the previously-unknown title "Spaceball" in the lineup for Q3, and finally some official dates for Monopoly, Bust-A-Move 4, Game of Life, zCards and Breakout. Looks like Q2 will be a healthy set of months for NUON games. Of course, the Release Dates have been updated accordingly

-
Good Guys Give Away Bedazzled
Retail chain, The Good Guys will be giving away copies of the NUON-Enhanced title "Bedazzled" with any DVD Player purchased from their stores during the month of April.

Of course, a NUON-Enhanced DVD player is recommended to get the most out of Bedazzled...check out the official voucher for all the details.
---
News & Rumors - 4/3/01
Hot Products Ships Nuon Gear to Motorola
Hot Products Inc. has announced that it has started shipping its Nuon-compatible controllers to Motorola's Austin, Texas-based Media Systems Division for use with its Streamaster 5000 set-top box. Motorola is offering the units, equipped with Hot's Stealth control pad, to help it provide "broadband home entertainment" via cable TV lines.

Thanks to ie Magazine.
---
The Latest - 3/29/01
NUON Chat Tomorrow
Since we've yet to break in the new NUON Chat with a scheduled meeting, we'll kick it off tomorrow, Friday March 30th at 8:00 PM Eastern, 5:00 PM Pacific. Be sure to drop by if you're around!

-
New Syzygy Mag Hits
The latest issue of Syzygy Magazine has begun shipping, and features Freefall on the cover and a full 5 pages of NUON coverage. So go snag a copy already!

-
Bedazzling Egg
In case you missed it, I snuck in an update the other day to include an Easter Egg for Bedazzled on the Movies page. Give it a read if you're interested in seeing an entire extra wish sequence that was not included in the final cut of the movie (and for good reason).
---
The Latest - 3/26/01
New Cheat Codes!
After a bit of digging, we're happy to have turned up 2 new cheat codes for NUON games, one for FreeFall and one for Merlin Racing! Up first for FreeFall is a Mission *and* level select password that allows you to start from exactly where you left off, without having to start over from the skyfall every time (on any level!).
On Merlin racing, we've uncovered the password to make Merlin himself playable in-game! He is, of course, one of the best characters to play with and will give you an edge on your friends ;-).
Head over to the Cheats & Codes section of the Games page to get them both. Thanks to Tony and Phil for the cheats!
---
The Latest - 3/24/01
Site Maintainence
If you're a regular visitor you've probably already noted the new header graphic up top...just something I've been playing around with to make the site look better. If you feel like sharing any thoughts/comments on the new look you can email me and I'd be more than happy to take everyone's ideas into consideration.

Oh, and for kicks, try hitting the little NUON button :-)
---
The Latest - 3/19/01
San Francisco Chronicles NUON
An article in the San Francisco Chronicle on Friday from Roger Yim brought a bit of light to the NUON Features of Bedazzled to its readers. While speaking positively of the N-hancements, Yin still seems unconvinced of NUON's future. Read for yourself at the SF Gate website.
---
The Latest - 3/18/01
United Game NUON
The current issue of the United Game Fanzine features a 3 page spread on NUON, featuring (slightly dated) quotes from yours truly. Please note. When the article went to press, the editor, a Mr A.J. Mehta, didn't realise that VM Labs were in fact based in the US.

"What!?!" he exclaimed, upon being corrected by us, here at NUON-Dome. "You mean something as great as NUON isn't British?"
"Er...no." we replied. "It HASN'T been made by University boffins?"
"Erm...well, maybe people from Havard..."
"Harvard smarvrard!" cried the U.G. editor, beginning to get hysterical "Cambridge is the...oh, bloomin' nora. I can't keep up this patriotism. ( it lasted for an amazing three lines people! Ed. ). So I goofed. At least the machine's got potential and some decent games in the pipeline. If only I hadn't written `Cambridge` in font size 24!"
"There, there..." consoled us kind, caring people at NUON-Dome "It's gonna be okay!"
"Oi!" barked the editor, somewhat unexpectedly "I'll be havin' none of your consolations my son! If I had just bought an Atari Jaguar Console I would expect to be consoled. This is NUON. I expected to be DVDed.."

*insert rim-shot here*

Thanks to Andrew Mehta for submitting that humorous disclaimer :-). If you still wish to check out the article, despite a few erroneous facts, hit the Media section. No horrible puns in the article, I promise.

-
New Poll
The N-D poll has been updated with a new question, so look to your left and give it an answer! Let everyone know what you think of the Bedazzled NUON Enhancements.
---
The Latest - 3/16/01
Inside the Extiva
Ever wondered what the inside of the Samsung Extiva looks like? Or maybe just how big (or small) the NUON processor actually is? Well head on over to the Media secton and take a look Inside the Extiva, without having to take yours apart.

-
Bedazzled In-Depth
A review of Bedazzled has been posted to the Movies section. Rather than analyzing the various aspects of the film itself, we dive into the NUON Enhancements and dish the dirt (complete with video and screenshots) to let you know just what NUON can offer DVD movies. Check it out.

-
Bedazzled Issues
The Administrator of the NUON Forum has recently posted a message regarding some issues with Bedazzled on both the Toshiba and Samsung models of NUON DVD players. If you're experiencing some irregularities while watching Bedazzled, be sure to give it a read.

-
GameGO! Magazine
From the former GameFan editor that brought us coverage of FreeFall 3050AD and his crew comes GameGO! Magazine. While just getting off the ground, this mag promises to have the same unbiased and honest coverage of the widest variety of games, just like GameFan used to. So show your support and grab a subscription, and be sure to tell 'em you want NUON coverage in the comments field when sending in your order!
---
The Latest - 3/12/01
NUON-Dome Store Launches
In cooperation with Hot Products, Inc, we're proud to launch the NUON-Dome store! Now you can get all your NUON peripherals and games right here on NUON-Dome. So think of N-D the next time your looking to pick up some NUON goodies, or when the Pro Elite and IS3 arrive, they'll be here.
Thanks for your patronage!
-
Bedazzled Ships
Today was the ship date for Bedazzled, and most retailers (including Amazon.com) have the DVD in stock and have begun shipping it out to customers. So go ahead and take a run down to the local vid store if you want to try out some NUON DVD features.

-
Andreas Binner Interview
NUONline.de has posted up an English translation of its interview with Andreas Binner, a man responsible for many audio-related NUON features. Click here to get some insight into the inner workings at VM Labs.
---
News & Rumors - 3/8/01

You know
you want it.
Syzygy Magazine Showcases NUON
The latest issue of Syzygy Magazine has a 2 page feature on Tempest 3000 and FreeFall 3050 AD, and then a 3 page interview with Tony Takoushi from Total ArKade Software.

On the non-NUON side, the issue features interviews with Ed Logg, creator of Asteroids, Centipede, Gauntlet, etc, as well as Dave Akers, creator of Atari's Klax, Road Riot, CA Speed, etc. And many more surprises, such as a quick interview with one of the fighters featured in Crave's UFC game for the Dreamcast and PS2, Jeremey Horn. Look for it to begin shipping in about a week, and you can place an order at the Syzygy Magazine website.
Bedazzled Reviews Abound
The NUON-Enhanced DVD of "Bedazzled" continues to impress reviewers, as DVD Authority and DVD File both review the title quite favorably. Be sure to check those out if you're still on the fence about this movie.
---
News & Rumors - 2/27/01

Bedazzled arrives
March 13th
More Bedazzled Buzz
A few more tidbits in regards to the upcoming NUON-Enhanced "Bedazzled." First up is a review of the disk over on DVDreview.com. The review speaks very positively of the movie, and briefly explores some of the NUON-exclusive features. Check it out here.

NUON.tv, the official NUON site, has put up their synopsis of the NUON features on Bedazzled. This page presents much more in-depth coverage of the NUON features than anything else that has been previously available. You can hop right to the page here.
Site News
As you can tell by some new graphical touches, N-D has undergone some changes. Starting with the most obvious, a new Graphical Menu was implemented today, thanks to Wes. Along with that, you'll notice the new Movies Section, the new home of the Bedazzled preview, and future home of Reviews, Previews, and Release Lists for future NUON-Enhanced DVD Movies.

Finally, if you click on the Forum or Chat links, they now lead to the VM Labs-hosted chat and forums. The Forum did have some good threads going now and again, but it really can't compete with the new forums, which simply rock. And, the new chat room is essentially the same as the old N-D one, so much won't be missed. Now we've all got a universal place to meet and talk NUON so let's do it!
---
News & Rumors - 2/27/01
Fox's Bedazzled Site
Fox has launched the official site for the DVD release of Bedazzled, the first-ever NUON enhanced DVD movie. The site offers a trailer, desktop images, email postcards and plenty of pictures of Elizabeth Hurley ;-).
There doesn't appear to be any mention of NUON on the site, but you can get the lowdown on the NUON features in Bedazzled in our Bedazzled Preview.
---
News & Rumors - 2/25/01
NUONtalk
VM Labs has put up a new Forum and Chat room that is available over at www.nuontalk.tv. The message board is a UBB (Ultimate Bulletin Board) so the format should be familiar to most. There are a number of topics for all ranges of NUON discussion, from Hardware to Software and everything in-between.
The Chat Room is a java applet which appears to run off of IRC, so it should function similar to the chat room here on NUON-Dome.
As a result, the forum/chat here on N-D may be changing around to avoid an overabundance of forums and chats for the NUON community. There really only needs to be one main forum and chat room for us all, and it makes sense for a VM Labs hosted version to be "the one." And with the news that the origial NUON Forum will be going down soon, it couldn't have come at a better time. Thanks VML!
---
DVD News - 2/20/01
Clerks: Uncensored

Snoogens

Welcome to a new little addition to NUON-Dome, the DVD News. I'll toss an update on the latest DVD releases whenever something especially cool hits the market, based on personal preference and bias ;-). Hope you enjoy.

Today's DVD News will feature Clerks The Animated Series: Uncensored. Hitting stores today, this disk contains all 6 episodes of the show (only 2 were ever aired on TV) along with a slew of extras. The content spans 2 DVD's in this collectors edition and sports yet another infamous Kevin Smith audio comentary. For those who've never watched Mallrats with the audio commentary, you're missing out. If the Clerks: Uncensored commentary is half as good you'll be rolling on the floor.

Clerks: Uncensored will definitely bide your time nicely while waiting for the Special Edition of Dogma to hit.
---
The Latest - 2/16/01
Logitech GamePad Revealed!
Head over to the Hardware page to check out an updated Oritron DVD900 preview (new images and player details), and to see the first picture of the Logitech WingMan gamepad for NUON, along with details on the controller.
---
News & Rumors - 2/15/01
Samsung and NUON in Europe
Here's some info about Samsung's plans from Thomas Ferrero, an independent sales agent for Samsung Switzerland. It gives some insight into Samsung's plans in Switzerland, but not necessarily in other European countries.
"This is to give you a brief comment on the "European NUON Controversy":

It is to say that there must be a lot of feelings of some people involved - the discussion is far away from objective in a certain way.

Even if some manufacturers might have decided not to launch NUON enhanced products in Europe for a certain time, there will be at least one product ready to launch in May/June 2001 time frame - no doubt that the SAMSUNG DVD-N705, a.k.a. Exitva II, will gain lots of interest from movie enthusiasts all over Europe.

It is for sure that within the mentioned time frame, SAMSUNG will launch the new NUON enhanced DVD player - at a very interesting price tag for end users. The design of the new machine should be known to the NUON community - so all you have to do is wait - and maybe place an order right now to be one of the first adopters of NUON in Europe.

Regards,

DICOM SEDICO AG

General Agencies

SAMSUNG Consumer Electronics
ENERGY Loudspeakers

Thomas Ferrero
Product Marketing & Services"
-
The Final T3K Passwords
Wasted is at it again, finishing off all the "standard" levels of T3K and passing along the passwords for the rest of us to use. Now you can get to the "algo" levels and even try out the first cheat code. Check 'em out over on the Cheats & Codes page.
---
News & Rumors - 2/8/01
European NUON Controversy
Earlier today, an email arrived from M.Neihs from NUON World, stating that the Toshiba SD2300 wouldn't be launched in Europe. The full message follows:
"Ladies and Gentlemen,

we got an official statement from Thomas Eschholz (TOSHIBA Germany) that they cancelled the SD2300 for Europe.
Mr. Eschholz told us that business would be a big risk because no distributor of NUON enhanced Software is known in Germany and furthermore the number in published software is too low. The same applies to the accessory area.

For about one year our mailorder division NUON WORLD contacted VM-LABS by e-mail and snail-post that we would like to do some business and take over the part of software imports.
Until now we get no answer from VM-LABS and it seems, they are not interested in it. Their efforts to get in touch with retail partners are limited to USA. SAMSUNG has announced the Extiva 705 for Germany to be launched in May/June 2001 - SAMSUNG Germany will discuss the problem now, whether the release has actually a sense.

GAME OVER?"
Well, apparently the game *isn't* over. Here's the official reply to Mr. Neihs from VM Labs:
"Mr. Neihs,

Toshiba traditionally publicizes their product announcements through official communication from Japan. VM Labs cannot comment on our manufacturing partner's plans.

As only one of many features NUON offers to movie fans, the availability of proprietary NUON software, though important, is generally not viewed as the most critical element. Our office in Germany is equipped to take the appropriate actions to ensure distribution throughout Europe.

We work very closely with our partners so it is important that we develop relationships based on mutual respect and common goals. Some of the most primary areas of cooperation are the mutual protection of intellectual properties, product reputation, and corporate identities. In consideration of issues such as your refusal to desist upon using a modification of our NUON logo on your web site, we cannot in good conscience consider your company as a candidate for partnership.

Thanks for your inquiry,

Greg LaBrec
VP, Marketing
VM Labs, Inc."
So the bottom line is that NUON will still definitely be happening in Europe, which is good news. Thanks to VM Labs for clearing things up, in a round-about way :-).
-
TAKS Chat This Saturday!
Don't forget, if you want to chat with Tony Takoushi, the man behind the madness at TAKS, be here on Saturday the 10th (that's this Saturday) at 12 Noon, Eastern time. Get those questions ready!
---
News & Rumors - 2/3/01
NUON on EDGE
Another article up on the EDGE website discusses NUON, Tempest 3000 and how the game relates to the current state of videogames. Very well-written and insightful, be sure to give it a read here.
---
News & Rumors - 2/2/01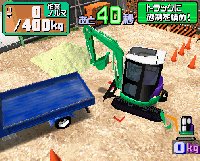 Japanese Arcade version
of Power Excavator
Details on Power Excavator
Thanks to Sal over at NUONline, some details on the upcoming NUON game, Power Excavator has been uncovered. This link takes you to the Taito Japan website and shows some details and plenty of screenshots from the arcade version of the game. PE appears to be a construction simulation game of sorts (think a cross between Sega's 18-Wheeler American Pro Trucker and Rare's Blast Corps...sorta), and the site states it's "The First Power Shovel Simulator in The Coin-op Industry!!"

These real-life simulations definitely target a niche audience, but with luck Power Excator could turn out to be a fun one. Who ever thought a Farming Simulation could be any fun, but Harvest Moon has garnered quite a following on various platforms. Keep your fingers crossed :-).

-
EDGE Drops Into the Zone
EDGE magazine, the UK version of Next-Generation, has put up some Impressions of Tempest 3000 on their site. Though the online article doesn't mention NUON, there is going to be a full review of T3K in the March issue of the magazine, along with a piece on NUON.

In the meantime, you can check out their online Impressions here.
---
News & Rumors - 1/31/01
Upgrade Your SD2300
Toshiba SD2300 owners can now get a firmware upgrade CD via mail if their player meets certain criteria. Noone is really sure what the upgrade does, but rumors have it that it fixes some NUON-related issues.

*UPDATE* The upgrade is NOT needed to play The Next Tetris, but aside from that we're still not sure what it does exactly.

Here's the link to Toshiba's site with all the details and the form to fill out to get the software update.

-
Sample Some FF Goodies
Through some major negotiatons (well, not really) a few sample items from the FreeFall Contest CD are now available here at NUON-Dome. They're over on the Media section so get over there and check out a video clip and some cool preliminary screens from the game. Thanks Tony!
---
News & Rumors - 1/29/01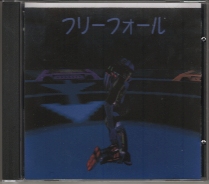 FreeFall Contest Prize
FreeFall Goodies
A few days ago the contest prize from the FreeFall 3050 A.D. competition arrived, as you can see here. Basically, it's a personalized CDR burned by Tony T. that includes a whole ton of media from the game including video clips of high-res renderings of the models and scenes used in FreeFall on NUON.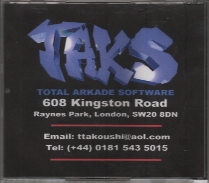 Backside of the
custom case

In the Images folder there are a selection of (again) high-resolution pictures and artwork used in the game, and some that wasn't. For example, the "Global Times" newspaper used in the opening FMV of the game is there (which has some pretty funny reading), early variations on various static screens (options, mission briefings), and still shots of in-game locales that show off some different design elements that got changed around before the final release. I like the Frosty Spells cereal man billboard the best (High in Sugar! it proclaims).

Unfortunately due to the nature of the material on the disk, I cannot share it here on N-D without written permission from TAKS. But maybe with a bit of persuasion I can get some goodies up here too 'cause let me tell you, this high-res DVD box art looks *really* nice on the 'ol desktop.
---
The Latest - 1/27/01
Interview with Miracle Designs
Phil and Peter were kind enough to field a few of our questions in an e-mail interview. A lot of cool information was shared. Scope it out for sure =)
---
The Latest - 1/23/01
Q&A with TT
Just in case you didn't notice the banner up top, the news is that we're having a Q&A chat with Tony T. from Total ArKade Software on Saturday, February 10th at 12 noon EST. Tony will be answering all your questions about his company, FreeFall and TAKS upcoming game "Morphin Machines," so get ready and be here on the 10th!
New Game Rumors
Some info has been floating around on the Net that includes a couple of new games for NUON, Bugdom (a 3D platformer) and Power Escavator [sic] (a contruction sim), along with news of a retail release for Ballistic and The Next Tetris.

Sal over at NUONline found an article at Video Business that mentions the retail release of TNT and Ballistic as well, so this looks like it definitely will happen. If you're looking to check out Bugdom, have a look at the preview here on N-D.
---
News & Rumors - 1/20/01
HPI News
Good stuff is happening over at the HPI website. First up is news about the Pro Elite controller. New specs and a new picture are up (see right). The most interesting of the new features is the "Innovative Joy-Ball™ 360° Analog Joystick" which appears to be a small trac-ball style device built in next to the D-Pad where the analog joystick used to be. This is an interesting innovation which should provide even more accurate control over games. The Pro-Elite is scheduled to ship 2nd Quarter 2000 for $39.99 and is available for pre-order now over on the HPI Website.

The first picture of the HPI NUON Memory Card is now up as well, as seen here. The Standard Memory Card will come in a range of storage capacities and will also be available in Q2 2000. "Pocket size, Stackable and transportable to any other NUON™ memory compatible peripheral."

Last but not least, the Port Replicator is finally in-stock for $19.99. This device allows you to relocate your NUON ports to wherever you'd like (in a different area of your entertainment center perhaps) in order to fit your Home Theater setup best.

Thanks to Ted for the heads-up!
Cheap Exitva
If you're still in the market for a Samsung Extiva, Amazon.com now has them in stock for a low $279, which is actually lower than what they're charging for the Toshiba SD2300. Check it out.
---
The Latest - 1/16/01
NUON-Dome Chat
I just put up a java-based chat room for the site. Please let me know if you have any issues or problems with it. Hopefully all will work out well but it's hard to test out all possible configurations.

-
Review: FreeFall 3050 A.D.
The action/arcade game FreeFall is upon us. Is it too difficult? Is it truly innovative? Find out in the full review.

If you need a bit of assistance, the level passwords for FF have been posted over on the Cheats & Codes page.

-
FreeFall Contest Over
Well, I hate to gloat but I beat FreeFall on Difficult last night so that makes me the winner of the contest that was announced by Tony Takoushi yesterday. Sorry guys ;-). Look for info on the CD from TAKS once the mailman drops it off.

-
IGN DVD Shows the Love
In a suprising turn of events, IGN DVD has semi-appologized for its anti-NUON answer to a recent Q&A question. Check it out here and here. Thanks, IGN DVD.

-
Vote NUON in 2001
A poll on DVD.com asking "What Innovation Are You Looking Forward To In 2001?" has NUON currently in the lead over More HDTV units in the market, DVD/MP3 Combo Units, DVD-RAM Video Cameras and even Recordable DVD. Go cast your vote!
---
News & Rumors - 1/15/01
FreeFall Contest
This just in from Tony T. from TAKS:
"I really would like to see FF cracked on hard difficulty so here's a little incentive, whoever finishes the game and tells me what the endsequence is will be sent a goody CD with a selection of the hi-res renders we created for the cities models,posters etc.

This art is absolutely stunning and has not been released outside of the company so it really is as exclusive as it gets.."
This is great news to whoever gets to beating the Hard levels first, you can bet I'll be in the running as well ;-). Look for a FreeFall review soon!
---
News & Rumors - 1/11/01
More from CES
A CES report posted over on the NUON Forum revealed some more interesting information from the show. Here's some highlights:
Galaxy Quest NUON-Enhanced DVD was shown in the VM Labs Suite, along with a Streamaster 5000 system showing online games and multicast IP video, a Samsung N501 showing movies or the VLM, and an Oritron player showing the VLM.
-
Mixed Media
DVD File reported on the NUON-Enhanced version of Bedazzled very positively, citing the extras on the disk as a bonus to NUON owners, while non-NUON owners will still get a lot out of the disk. Here's the report.

The slightly less-informed ign.dvd discounted NUON to an inquiring reader in it's 1/2/01 Q&A stating:
"I wouldn't spend the extra money. NUON is just an enhancement to the DVD experience...but from everything I've seen, it's a fairly useless one. There are interesting bells and whistles added to the navigation of DVD's (fast-forwarding, rewinding, pause, etc etc etc), and in theory, there will be games put out for it. But the problem is, that it doesn't have the processing power to do anything beyond what a Super Nintendo might have been able to do...but of course with much greater storage capacity."
All reports from CES seem to suggest otherwise, as the Oritron player will be good for those looking for a low price, DVD Movies will do much more than fast-forward, rewind, pause, etc etc etc (NUON-Enhanced machines already do), and I'd love to see Tempest 3000 on a SNES. *editorial mode off*
Send your thoughts on this to the fine folks at IGN DVD
---
The Latest - 1/9/01
FreeFall Media
Fresh off the video capture card is a boatload of new videos and screenshots of the final version of FreeFall 3050 A.D...give it a look in the Media section. Be sure to check out the super-cool FreeFall 3050 Box Art too!
---
News & Rumors - 1/8/01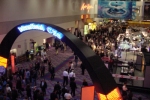 The Grand Lobby
At CES
News from the CES Floor
There's a new Samsung NUON player in town and it's known as the N501. Being displayed on four stations at CES, the N501 has a completely new look, 152 total VLM effects, the ability to choose between classical, jazz, techno, rock/pop and other modes for optimum VLM response, and even works with MP3 disks. Which means, yes, the N501 will officially support the CDR medium. Aside from these new features, it is similar to the Extiva but will not bear the "Extiva" name anymore – it's just NUON to avoid confusion. No official word on whether or not a game and/or controller will be packed-in.

The targeted release date is March with an MSRP of $249, and expect a slightly lower street price. It will be sold in the US as well as Europe, and will eventually replace the DVD-N2000.

-

The Oritron DVD900 is being shown at the VM Labs booth, and will also have MP3/CDR capabilities. Unlike the pic here on N-D, the player on display features 2 NUON ports on the front but is otherwise very similar. Release is set for mid-2000 with an anticipated MSRP of under $200

-

Iron Soldier 3 has suffered a slight delay and will now be available in February.

-

The NUON-Enhanced version of Bedazzled is being shown at the NUON booth, and Logitech's controller is being demoed at the VM Labs booth. The Logitech controller has both analog and digital and reportedly looks great and is very high-quality. But unfortunately, the first gamepad will not have memory card support.

-

Toshiba will continue to push its SD2300 NUON player, as it has not made any official announcements of a replacement or of any additional NUON decks. Though that does not mean they won't have one.
---
The Latest - 1/7/01
New Previews
Check out the Games page for new previews of Bust-A-Move 4 and RC de GO!

Also, check out the new previews for Breakout, Monopoly and The Game of Life.
TNT Cover Art
I've just uploaded some homebrew coverart for The Next Tetris (since it comes in a paper sleeve). Print it out and slip it into a DVD case for a proper addition to your rack of DVD's and NUON games :-) Hit the Media section or the link below.
eBay Auction
Just throwing a cheap plug for an eBay auction up here. If you're looking for an extra Warrior NUON gamepad, click here. Thanks!
---
News & Rumors - 1/7/01
The First NUON-Enhanced Movie
Twentieth Century Fox Home Entertainment's "Bedazzled" Special Edition DVD, starring Brendan Fraser and Elizabeth Hurley will be the first movie ever to feature NUON enhancements. It will be available on March 13, 2001 at a suggested retail price of US$26.98/C$41.98 Canada. Extra features on the "Bedazzled" DVD made possible by NUON include:
Dynamic book marking of scenes from the film along thematic lines. Examples include digest versions of commentaries by director Harold Ramis and Hurley, character studies of the supporting actors and a fashion show of Hurley's wardrobe.
Pre-selected close-up zooms of interesting scene elements combined with background text highlighting the story behind the scenes.
An enhanced gallery of concept art and set design stills displayed in contrast with their counterpart clips in the film.
A dynamic chapter select feature that displays a full motion video thumbnail view of a chapter combined with a written scene description so users can easily determine where they want to enter the movie.

"NUON allows a studio to offer extra assets to movie viewers with minimal additional production time. Powerful NUON assets are programmed to require little memory on a DVD. All of the NUON enhanced content on "Bedazzled" takes up less than four megabytes of memory and won't slow the player down."

"Fox's "Bedazzled" is a standard DVD that will play on any DVD player. The NUON content can be accessed by using any NUON compatible hardware. The first NUON enhanced DVD players from Samsung and Toshiba made their debut in fall of 2000 and additional manufacturers including Orient Power Multimedia and LGE Corp. have also announced plans for NUON DVD players."
---
The Latest - 1/7/01
Review: The Next Tetris
Owners of the NUON-Enhanced Toshiba SD2300 get this game for free, and it's a good thing they do. Check out the review in the Games section to learn why.
---
The Latest - 1/6/01
LGE to Incorporate NUON
Yet another announcement from a hardware manufacturer planning to use NUON in future DVD players. This time it's LG Electronics who plan to incorporate NUON in select DVD Players to be manufactured for launch in 2001.
"There seem to be limitless possibilities with NUON technology as a compelling value added feature set for the next generation of DVD players," said J. H. Choi, Senior General Manager, Engineering Design Department/Digital Display & Media Company at LGE. "In addition to driving the existing DVD market with its expansive functionality, NUON creates an extra enticement for consumers considering the migration to the benefits of digital video products. We are currently deciding which DVD models will incorporate the NUON technology and will announce specific products that will be launched in 2001 shortly."
Hardware Updates
Thanks to all the recent news, major updates have occured over in the Hardware section, including an Oritron DVD900 Preview (including a picture of the player), an updated Streamaster Preview, and Hardware Specs added to the DVD-N2000 and Toshiba SD2300 pages.
---
News & Rumors - 1/5/01
More NUON Games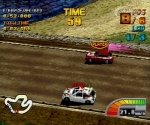 PSX Version
of RC de GO!

Well, CES was rumored to have some good announcements for NUON and it's certainly starting off with a bang! New games from Hasbro Interactive and Taito have been announced in a press release today:
"Initial Hasbro Interactive NUON titles will include MONOPOLY, THE GAME OF LIFE and BREAKOUT video games, all scheduled for release in Q2 of 2001. Taito also has at least three NUON games planned, including "RC de GO!" "BUST-A-MOVE 4" and "SPACE INVADERS 2001" scheduled for release in the second and third quarters. These games join a number of other NUON software and peripherals on shelves now, as well as previously announced titles slated to ship in the coming weeks. Similar to NUON software now on shelves, all games currently in the works are anticipated to ship with an MSRP of $29.95."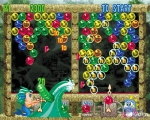 PSX Version of
Bust-A-Move 4

Monopoly and The Game of Life are based on the popular Hasbro board games, while Breakout will likely be an updated version of the classic Atari game in true Hasbro Interactive fashion. RC de GO! (pictured to the right) has received positive reviews on the PSX revision, and even received the IGN.com editor's choice award. Bust-A-Move 4, possibly the best/most addicting puzzle game ever has been featured on many game consoles and in arcades, while Space Invaders 2001 is likely to be another update of a classic arcade game.
Another NUON DVD Player
NUON needed an attractively-priced DVD player to penetrate the mass-market, and that's exactly what it's going to do with the Oritron DVD900 (which will be on display at CES). With an MSRP of $200, you'll most likely be seeing these players for around $150 street price. The DVD900 will be available in both North America and Europe. From the Press Release:
"VM Labs, Inc. and Orient Power Multimedia, Ltd. announced today that they have signed an agreement aimed at delivering NUONÔ enhanced DVD players into the key US and European markets throughout the year 2001 and beyond. Orient Power Multimedia, Ltd, a major supplier to virtually all the major national United States consumer electronics retail outlets, has established a respectable market position and share in DVD players in the last 18 months. The first Oritron branded NUON enhanced DVD player is scheduled for shipment in mid 2001 with a target retail price below US$200."
YaK and a Near-Death Experience
Jeff "YaK" Minter updated his site today which, aside from a link back to the N-D review of T3K (thanks!!), also chronicles his near-death experience in a recent trip to Barbados. Check it out.
The Next Tetris Arrives
Toshiba SD2300 owners rejoice! Your copies of The Next Tetris/NUON Demo Disks are finished and have begun shipping. Head on over to the Media section to check out screenshots and a video clip of the nifty opening FMV sequence.
---
Early CES Reports - 1/4/01
Press releases have already started to roll in thanks to CES this weekend. First up is news from Motorola about its Streamaster set-top-box. Blockbuster Inc. and Enron Broadband Services announced that they are using Motorola's Streamaster(TM) 5000 advanced set top box to provide access to the Blockbuster Entertainment On-Demand service, which is providing subscribers access to movies on-demand. Currently, consumers are able to start, stop, pause, rewind, and view movies on-demand with VHS visual and sound quality.
"The software-enabled Streamaster 5000 serves as an in-home ``gateway'' to a wide-range of interactive multimedia services. The Streamaster system is designed to give broadband distribution providers the ability to offer additional services to consumers such as digital-quality broadcast television services, web access, email, 3D and network games, karaoke, music on-demand, on-line shopping and more. Streamaster 5000 gains its intelligence, like the ability to add new features through remote software upgrades, through DigitalDNA(TM) technology."
-
Canadians hoping for on-demand broadband content aren't left out in the cold, thanks to Aliant Telecom, choosing Motorola's Streamaster(TM) 5000 advanced set-top box to deliver a wide range of broadband interactive television services.
"Aliant plans an aggressive market expansion of its comprehensive Advanced Digital Subscriber Line (ADSL)-based VibeVision suite of services, launched in January 2000, which offers digital-quality television, Interactive program guide, ``infotainment'' services, Web browsing and e-mail."

"NUON technology enables many of Streamaster 5000's capabilities, such as 2D/3D games graphics, General MIDI music, Dolby Digital(TM) audio, Spatializer(TM), MPEG1/2 with video trick modes and MP3 playback. Motorola and VM Labs have a multi-year alliance, which includes games development and content publishing assistance."
-
Finally, Australians are in luck when it comes to Streamaster as well, TransACT Capital Communications Pty Limited, signed an agreement to purchase Motorola's Streamaster(TM) 5000 advanced set-top box.
"Streamaster 5000 is designed to make it possible for TransACT to deliver full-service broadband interactive television services like digital-quality broadcast television, Web access, e-mail services, 3-D games, and video and music-on-demand to living rooms across the nation's capital, Canberra, through VDSL (Very High Speed Digital Subscriber Line) services."
-
Next up in NUON news is an announcement of Logitech signing on to develop NUON peripherals. From the Press Release:
"The initial product, a Logitech gamepad for NUON, is expected to be launched in the first quarter of this year. The company will have more specific product information and other announcements available at the VM Labs booth (No. N223) at CES, January 6-9.

``We are continuing to move our products 'beyond the PC' and into the living room,'' said Ted Hoff, vice president and general manager of Logitech's Interactive Entertainment Division. ``Our partnership with VM Labs gives us the opportunity to add additional functionality, in the form of a high-quality peripheral, to any entertainment device that incorporates NUON technology.''

For Logitech, NUON provides an opportunity to expand the company's customer base into mainstream game products, going beyond an audience of hardcore gamers currently playing games on dedicated consoles and PCs. VM Labs is currently teaming with a number of hardware and software partners to deliver cutting edge interactive home entertainment. Motorola is launching NUON-enhanced Streamaster set-top boxes that will deliver the first broadband gaming. Toshiba and Samsung have both released NUON enhanced DVD players offering consumers a wide variety of new movie viewing features, as well as the ability to play games and display visual light shows while listening to music CDs.

Previously, ``Ballistic'' software came packed in with the Samsung DVD N2000 player and ``The Next Tetris'' game is part of the Toshiba SD2300 DVD player package. Initial NUON software titles began shipping in December, 2000. Numerous additional titles from Hasbro Interactive, Taito Corp., Sunsoft and others are expected to become available throughout 2001."
---
The Latest - 01/01/01
Capped and uploaded a few high-res shots from the options & goodies menu of T3K - suitable for desktop usage! Available in 1024 X 768 & 800 X 600 resolutions. Media Section
-W3Z
---
The Latest - 12/29/00
Thanks to Wasted, all of the T3K level passwords up to 115 (missing only 113) are now available on the Cheats & Codes page in the Games section. It was good of him to take the time to write down every password so the rest of us don't have to leave the zone :-)

-

The Extiva was featured in a huge, full-page ad in today's USA Today on page 5E in the Weekend section. The full color ad reads as follows:
"Everyone knows, galaxies far, far away tend to be more advanced. That's why, considering the level of entertainment you get through a Samsung DVD Player, you have to wonder where they come from. But, then again, all that matters is that you're floored every time you watch a movie or play a video game. So sit back and revel in the full glory of Samsung DVD. For example, the Samsung DVD-N2000 comes with features like a virtual surround sound system that replicates movie theater acoustics. On-screen displays that give you simple control of Samsung's elaborate DVD features. And Motion zoom that lets you zoom into part of the scene. Samsung DVD Players. The technology you need for the fun you want."
Look for a scan of the ad to grace the Media section as soon as I get the time.
---
Tempest 3000 - The Review
After hours of watering eyes and blistering thumbs comes the Tempest 3000 review. Read, learn, then go buy.

-

Congratulations to Wes on his engagement to his girlfriend the day after I got engaged! Great minds truly do think alike!
---
The Latest - 12/25/00
Greetings readers. Just a quick note to wish everyone a Merry Christmas, Happy New Year, etc, etc. Thanks for checking out N-D - Wes and I both truly appreciate it!

On a personal note, I just got engaged to my long-time girlfriend Kati and I'm pretty excited. It was her dream to get engaged on Christmas Eve so I figured I'd make it happen for her. Hey, any girl that'll support me in my Web antics and race against me in Merlin Racing (not to mention Ballistic) can't be all be all bad, right? Here's to the future :-)

-

As for NUON-Related news, FreeFall is already spinning on a lucky few NUON players already. With luck I should have my copy on the 4th - here's hoping. I should get my T3K review up fairly soon too - probably after the holiday festivites are over.
---
News & Rumors - 12/20/00
FreeFall ships! That's right, the news from David Goodman at DVD International is that those who've ordered can expect their copies to begin showing up as early as tomorrow if you live in the US. Those outside of the US should begin looking in their mailboxes in a few days.

-

For those who have ordered their NUON games from online retailers such as Amazon, the good news is that Merlin Racing and Tempest 3000 are both showing as "on hand," and while many people have already received Merlin and are waiting for T3K, it should be arriving soon.

-

Hot Products Inc, creators of NUON peripherals has started carrying NUON games as well. In their new DVD's & Games section they have Merlin and Tempest on hand to ship, with FreeFall, IS3, MYST and aMaze as "coming soon." Another source for NUON games is always good.

-

If you're looking for a neat trick to try with your Toshiba SD2300, try out its custom screensaver abilities. By using the snapshot feature, you can save a captured image to appear as the player's screensaver instead of the standard one. The image even remains after the unit is powered off. Very nice.

-

Speaking of screensavers, if you're looking for a neat screensaver for your PC, check out the NUON Screensaver over in the Media section. It's very similar to the "What is NUON?" Flash presentation over on the official NUON site, but it goes nicely with the T3K sounds for turning your PC into NUON heaven.
---
The Latest - 12/17/00
I have uploaded the entire collection of Tempest 3000 sound effects in a space saving zip file of MP3s. You'll find that and a helpful .txt file for decompressing them to wavs (for your windows events!) on the Media page.

-W3Z
---
The YaK Has Llanded
Tempest 3000 is here. To welcome it's arrival, belold a bevy of new Media, including screenshots (many, many screenshots), box art, and a nice big RealVideo file. More to come - enjoy!
---
Merlin Racing Review Now Available
A review of Merlin Racing has just been added to the Games page - head on over and check it out. Learn the ins and outs of this fun karting game.
---
The Latest - 12/13/00
Tempest 3000 is ready to go! Word has it that DVD International has started sending out orders for those who've ordered directly through them, while Amazon.com should start sending out pre-ordered copies later this week.

-

In an addendum to what Tony Takoushi from TAKS reported earlier, "Freefall was released to replication on Friday and should hit retail by December 18th at the latest."

December is turning out to be quite the month for NUON gaming.

-

Be sure to swing by the Games page to check out the new Cheats & Codes section, now featuring all the level passwords for Merlin Racing. Learn how to unlock the boss characters for play, and where to find a secret key too!
---
The Latest - 12/9/00
If you're one of the unlucky ones who are stuck waiting for Merlin Racing to ship from Amazon.com even though you've set your order to ship as items become available, try doing what Adam posted over on the NUON Forum:
"I figured out why I didn't see the option for 'ship on hand items now' at Amazon. If you were like me an switched your option to 'Ship as ordered items become available', you have to switch back to 'ship when all are available' then the option will be there to ship on hand items now."
-
A review of the HPI Stealth controller is now available. Find out whether you should jump in head first and pick up this controller or whether it'd be better to wait for the Pro Elite. Check it out in the Hardware section or by clicking here.
---
The Latest - 12/8/00
Merlin Racing and the Stealth Controller have landed! Initally Merlin wasn't overly impressive, but with some playtime it's starting to grow on me. The HPI controller that came was the black Stealth and it's very well done, but is not without a few quirks. Reviews are upcoming, but in the meantime be sure to check out the Media section for lots of new scans and video captures from the first round of NUON goodies.

-

Regarding the release date of FreeFall, Tony Takoushi (of TAKS) has reported that "Today is its last day in test, subject to there being no problems (and there have been virtually none all week) it will go into replication over the weekend and go to distribution next Monday (December 11th). It should then hit retail shelves on Monday 18th December at the latest."

That's good news considering the previous estimated release was in January. Thanks to Tony for passing the word along.

-

This info was just passed along from Michael Olshansky - the Toshiba VLM alows user interactivity via the Stealth controller's analog stick! Here's what he had to say:
"I got my Stealth controller today and decided to see if it would allow me to manipulate DVD movie menus, since the Toshiba requires the use of the remote. Unfortunately, it doesn't. I DID try popping in CD and firing up the VLM. And guess what? The analog stick modifies, in real time, the VLM output!

Up and down seem to do a zooming effect, while left and right modify the colors.

Again, this only works with the analog stick.. not the d-pad. So Samsung users are probably out of luck considering that the included warrior controller lacks an analog stick.

I played around with the controller and vlm a bit more and found that the buttons and analog controller modify different vlm effects in different ways. With some, the small grey direction buttons on the right of the pad control vlm effect complexity and/or speed, while they had little or no effect with other vlm effect sequences.

It seems that for most vlm effects though that the left and right on the analog stick controls video feedback and overdrive."
Thanks for the info Mike! Out of curiosity, I tried the analog stick on my Extiva in "Random Energy" mode and there was no user-interactivity. I guess it's either more effects, or user-interactivity - whichever you prefer! :-)
-
The next NUON player? Check out the display on this Onkyo progressive-scan DVD Player - see the NUON light? On the Onkyo Japan website it's listed as the DV-S939(N). N for NUON perhaps? Either way, at $1800 it's only for the most serious technophile.
---
News & Rumors - 12/7/00
While Merlin Racing has just become available, Tempest and FreeFall suffer yet another slip in release dates to December 19 and January 2, respectively. It'd be nice to have just ONE set date (even if it's further off) and know when to really expect the games to arrive, rather than play the delay game.

-

On a semi-related note, Hasbro Interactive has been bought out by Infogrames. As you may or may not know, Infogrames had a hand in the Extiva pack-in game, Ballistic, while The Next Tetris is a HI game, and the HI/Atari logos grace the cover of T3K. How this will affect NUON has yet to be seen, but Infogrames could theoretically use HI's properties to provide more interactive content for NUON.

-

If you thought the side nav bar of NUON-Dome looks a bit different today, you're not seeing things. The new graphic interface is courtesy of my longtime webmastering partner, Wes Powell, who is now officially jumping onboard the NUON-Dome machine. We've got some good stuff brewing behind-the-scenes, so look forward to more content (and cooler graphics) from Wes and myself in the future!
---
News & Rumors - 12/6/00
Believe it or not, Merlin Racing is *finally* beginning to get in-stock at retailers around the 'net. Amazon lists it as "on hand" and DVD International says it's "now available." Definitely good news. T3K and FreeFall are still on tap for a mid-December release.

-

Best Buy is stepping up their NUON stock. Now, in addition to the SD2300, they've begun selling the Samsung DVD-N2000 on their website. It has yet to be seen if the Extiva will wind up on actual store shelves, but if it does you can bet there will be a nice spark of interest for the player.

-

The N64 look-alike controller for NUON, the Stealth, is now available (in limited stock) from Hot Products Inc. It's the first third-party NUON controller available, and comes in black or transparent blue. It'll run you a cool $35. Expect a review here as soon as it arrives to NUON-Dome central ;-).

-

Just in case you missed it, Yak has updated his site with a pretty amusing story of his (and T[NT]'s) journey to the Sheep Shop, complete with photographs and a sheep's head-on-a-stick. Check it out.

-

Recent NUON Coverage:
Time Magazine, December 4 2000 issue (ad and mention in the Tech section)
Stereophile - Guide to Home Theater (Extiva Review)
Daily Record (Morristown, NJ) Newspaper (Extiva article)
eTown.com Toshiba SD2300 review
-
And, for fellow NUON webmasters out there, N-D is now offering nuon-dome.com subdomain urls. There are no ads and no hooks, you just have to:
a) Run a NUON-related website
b) Want a short (and way-cool) URL
That's all there is to it. For now, if you're interested just email me what you'd like your subdomain to be (yournamehere.nuon-dome.com), and where you want that URL to point. Hopefully soon I will have a proper form to fill out to request your URL. Thanks!
---
News & Rumors - 11/28/00
Well, as you probably have found out by now, Tempest 3000 and Merlin Racing have yet to ship. The word from DVD International is that Merlin will ship on Thursday, T3K sometime next week and FreeFall in "about two weeks." Unfortunately delays are a part of the games/technology industry whether we like it or not. Let's just hope these dates don't slip again.

-

T3K and Merlin have both been re-posted to BestBuy.com, now with pictures of the acutal boxes. Also on the site (but not yet available) are the HPI "Stealth" controller and the Extension Cable. Here's hoping those items will be available at Best Buy stores as well.

-

According to Jeff "YaK" Minter, Europeans are in for a nice suprise in regards to the VLM in their NUON players. In a recent post to the NUON forum, Minter stated that there are "some new effects that may get into Euro VLM; Andreas has done some great work improving things like beat detection; and there is more possibility for VLM to co-exist with other functions." He went on to say that there was new beat-acquistion stuff, user-interactivity is restored, and that there are about 25 new effects in already, with even more in the works.

-

CES, the Consumer Electronics Show, is approching fast, and VM Labs is set to showcase NUON there. Rumor has it that we can expect some nice suprises from VML there, and that there are a number of games under wraps that are unknown as of now. I'd also expect to hear more about NUON-Enhanced movies from and after the event as well. Then comes E3...
---
Extiva for Under $200
Hope everyone had a great Thanksgiving and ate tons of Turkey and Pumpkin pie. In case you missed it, Marshall has posted in the NUON-Dome forum a method to get a Samsung DVD-N2000 for under $200. Check out the thread here.

Also, head over to the Media page to check out scans from the December 2000 J&R Electronics Catalog of the DVD-N2000 and the SD-2300. Interestingly, the Toshiba is labeled as a NUON player but there's no mention of it in the Samsung listing.

It's only a matter of days until T3K and Merlin Karting hit! If all goes well, those that have the games set to ship overnight (including myself) will have them on Tuesday. Be sure to hop on over and order yours if you haven't yet.
---
GameFan FreeFall Review
The December issue of GameFan is on newsstands now and features a review of the final version of FreeFall 3050 AD for NUON. For a sneak peek check out the Misc section of the Media page here at N-D (or just click here), but be sure to go pick up a copy and support the only gaming mag with the conhones to cover NUON.
---
Delays, delays...
Well apparently we didn't cross our fingers tight enough, because the launch of the first three NUON games have been delayed. Tempest 3000 and Merlin Racing are now set to hit stores November 28th, while FreeFall has been pushed back to December 12th.

The good news is that the finished T3K is getting a major "thumbs up" from those lucky few who've gotten copies already. ECM from GameFan calls it a "killer app," and that anyone who hasn't done so yet should go out and get a NUON DVD Player and T3K as soon as it's available. The game will also be featured in an upcoming issue of GameFan (as FreeFall is again this month), so don't forget to subscribe :-)
---
Toshiba SD2300 Review Contest!
I'm just a lowly fan-site webmaster so I can't really justify going out to buy another $300 DVD player just for the sake of reviewing it for the site. So, for a limited time only, the first person to submit a good (well-written, etc), review of the SD2300 will get their very own, elusive NUON-Dome.com email address! Hey, it's not much but you can brag to your friends! Send entries to kevin@nuon-dome.com. Thanks and good luck!
---
NUON at buy.com
In the continuing trend of online retailers picking up NUON software, buy.com
now has Tempest 3000 available for purchase at the lowest price yet - $19.99! Just hit the link and do a quick search for NUON and it'll pop right up. Gotta love these NUON game prices!
---
FreeFall Blowout!
Thanks to Tony Takoushi at TAKS, we're able to bring you an Interview with Tony about FreeFall which includes many new images, Wallpaper, development notes and even news of a potential NUON game in development! Check out the interview for the scoop.
---
First Batch Delayed
According to recent reports and the DVD International site (the distributors of the NUON games), the first batch of NUON games has been delayed from the previous release date of November 14th to November 28th. Apparently the problems stem from replication and packaging due to the busy holiday season.

Looks like we'll have to practice up on that Demo disk just a *bit* longer.
---
More NUON Game Retailers
More online retailers are picking up NUON Interactive software. This round it's Best Buy and DVD Planet. DVD Planet has the same $20.99 price as Amazon.com, while the games at Best Buy are $24.99 with free shipping.
---
Tempest X000 Minter Interview
A new interview with Jeff Minter has been completed and posted over at Tempest X000. Not to be confused by the recent interview that Adam at Castle NUON conducted, this one is all new and consists of 37+ questions of Yakly goodness.
---
NUON - TromaDance Sponsor
Lloyd Kaufmann Welcomes you to TromaDance 2001. NUON has been announced as asponsor of the second annual TromaDance Festival to be held in Salt Lake City, and Park City UT, January 25 and 26, 2001 respectively.
TromaDance is the first film festival wholeheartedly devoted to filmmakers and fans. Unlike every other film festival, TromaDance does not charge filmmakers to submit their films. Entrance to all screenings is free and open to the public. Also, there are no VIP reservations or preferential treatment regarding films, panels, or parties of any kind given. The organizers of TromaDance believe films are meant to be seen, especially when it comes to new filmmakers. Art…in all its forms… is for the people!
Along with the unique film festival, get a first hand look at why NUON is total video entertainment with live demonstrations of NUON Interactive DVD.
---
NUON-Specific Page at Amazon.com
Brett, the Managing Editor at the Amazon.com Game Store has plans to set up a NUON Section in the "more platforms" section of Amazon. The page is said be going live on Sunday the 29th, so be sure to swing by and give it a look.
---
Toshiba Virtual Tour
NUON.tv has added a "Virtual Tour" of the Toshiba SD2300 remote control, much like the Samsung Extiva tour it had posted a few weeks ago. Check it out at nuon.tv (of course).
---
Extiva Poses for Home Theater
On the cover of this month's Home Theater Magazine you'll find the DVD-N2000 Extiva from Samsung. Inside you'll find a very positive review from a reviewer who obviously appreciates NUON's capabilities and features. Be sure to give that a look!
---
Pro Elite Delayed
Contrary to what was previously posted to their site, Hot Products Inc has updated their page for the NUON Pro Elite controller. The updated product information includes a new release date - Q1 2000 instead of December 1st. Guess you'll have to go with the pack-in or the N64 style controller for now.
---
T3K Strategy Guide Now Online
Jeff "Yak" Minter has written a pretty comprehensive strategy guide to T3K and posted it up at Yak's Zoo at this URL. Reading that is sure to get you even more psyched up for the game (as if that were possible). Look out for those Frank Zappers!
---
Preorder Peripherals
Hot Products Inc is now taking pre-orders on three of its NUON controllers. Get them at the following links:
---
$299 Extiva For Good
Jason at homebyfive.com has reported that the Samsung DVD-N2000 will remain at the $299 price (with free shipping) indefinitely. Check it out.
---
Toshiba SD2300 and New Game Now Available
According to recent reports, the Toshiba SD2300 is now on display at Best Buy stores across the US. The 2300 model carries the NUON processor, but does not come with a controller or game packed in. Though, the player does come with a mail-in card to get a demo disk with the full version of Hasbro Interactive's "The Next Tetris" on it.

No word yet on if The Next Tetris will become available for retail sale (for those who already have the DVD-N2000 Samsung), or if it will remain a pack-in only as Ballistic has been. Chalk up another game for our NUON players, at least.
---
YaKly Interview
Castle NUON has posted a good review with Jeff "Yak" Minter today over on their site. Be sure to stop in and check it out.
---
Amazon.com to Carry NUON Software
In a nice move for both VM Labs and NUON fans, the Internet superstore Amazon.com has already listed Merlin Racing, Tempest 3000, and FreeFall 3050 AD up for pre-order on their site. Find the games at the following links:

They're set for the same release date as DVD International, November 14th. And to top it all off, the titles will only cost you $20.99 each at Amazon. Cheap!
---
Extiva at dvdreview.com
Though the review recently posted to dvdreview.com on the Samsung DVD-N2000 suffers from a bit of misinformation (the $399 MSRP for example) they do rate the machine "good" overall. Check out the review here.
---
Forum Added
As you may see from the "forum" link on the left, I've added a pretty good Message Board here at NUON-Dome. It allows emoticons, signatures, etc and you don't have to "sign up," which makes the forum open to all. Please, feel free to make use of the forum and enjoy!
---
NUON Games Price Drop
While NUON games are still not yet available, they've already undergone a price drop at DVD International. While the MSRP for NUON games is set at a low $29.99, DVD International has set their sell price to a paltry $23.99. This price applies to all games set to launch on November 14th, which includes Tempest 3000, FreeFall 3050 A.D. and Merlin Racing.
---
Dissappointing Toshiba VLM
According to Yak, the version of the VLM to be included in the Toshiba SD2300 model DVD player will only have 8 different VLM effects. Yak states "You can blame Pokemon for that. TPTB in Tosh are playing it cautious WRT VLM effects, after the infamous "epilepsy episode" that occurred a couple of years back, when stroboscopic effects in a Pokemon cartoon caused a reaction in some Japanese children. So, if the VLM is a high priority for you, the Sammy's the player to go for."
---
Exploring Extiva Extras
A new feature on the Official NUON Website allows you to take a virtual tour of the remote-accessible features of the Samsung DVD-N2000. Check it out at http://www.nuon.tv/producthelp.html.
---
FreeFall Featured in GameFan
As promised, the November 2000 issue of GameFan magazine features a three page preview of FreeFall 3050 A.D. by TAKS for NUON. The spread gives the game a fair look and is very well done. Do yourself a favor and check out the issue...it's good to know someone actually has the guts (read balls) to cover NUON objectively. Bravo ECM.
---
Extiva Extravaganza Extended
The homebyfive.com Extiva Extravaganza promotion was so successful that they're extending the deal until Friday, September 29th. So hop on over to their Extiva listing and pick up a DVD-N2000 for $299 with free shipping.
---
Extiva Makes CNET Top Ten
A recent article at CNET picking the top ten electronic gadgets for 2000 finds the Samsung DVD-N2000 at number ten on the list. Not bad. Check out the article here.
---
HomeByFive Extiva Extravaganza!
Good news for anyone who has yet to pick up a Samsung Extiva NUON DVD Player, Jason from homebyfive.com just sent me "a heads up for you and your loyal site gatherers. Homebyfive.com will be have an Extiva Extravaganza this Friday, Saturday and Sunday. This means for those 3 days, the price goes to $299.95 and there's free shipping. No pre-orders - it has to be done those three days."

So get your orders in this weekend to take advantage of this very nice low price. :-)
---
Hot Products Press Release
A press release, made public a few days ago, shows Hot Products, Inc (makers of NUON peripherals) turning a profit this year, as opposed to a $988,823 loss for the same period fiscal 2000. Check out the entire press release here.
---
Release Dates Cleared Up
The official NUON site has been updated with the correct release dates for the first round of NUON games. Set to hit the 14th of November are FreeFall 3050 AD, Tempest 3000 and Merlin Racing. January 2001 brings Iron Soldier, with aMaze and MYST following in February and May, respectively. In honor of the upcoming releases, enjoy the box art for the games:
---
NUON In The Mags
The October 2000 issue of Popular Mechanics features an article which includes the Samsung Extiva DVD-N2000. The TDVD (Truly Digitial Versatile Disk) article features a number of players and discusses DVD technology in general. Pick it up at a newsstand near you.

Also be on the lookout for the next issue of GameFan Magazine, which is said to feature an in-depth look at NUON and it's games.
---
Gamers.com Reports on NUON
Gamers.com posted a NUON article on 9/13/00, which seems to be fairly positive. Or is it really a semi-well-hidden jab at NUON technology? You decide. Check out the article here.
---
IGN64 Takes Offense to NUON Controller
It's no news to NUON fans that one of Hot Products, Inc (a third-party NUON peripheral developer)'s controllers, the Cobra Gamepad is an obvious N64 controller look-alike. But, a slightly mis-informed IGN64 recently posted a news article, stating that this controller is the "official" NUON gamepad, which it obviously is not. The Digital Controller is the Samsung Extiva pack-in, and the Toshiba SD2300 is not even scheduled to have a controller packed-in. They also report that NUON DVD players are not yet avaiable, while they obviously are. View the misinformation.

This has, of course, caused a bit of a stir in the Nintendo community as can be witnessed here. Enter at your own risk.
---
Release Dates Get More Specific
According to the Coming Soon page on DVD International, Tempest 3000, FreeFall and Merlin Racing are all set to be released on the 14th of November. This clears up the little misinformation about the release of FreeFall and aMaze, which seemed to be mixed up a bit on the nuon.tv website. A release table has been added to the games page with all the latest dates.
---
Take a Closer Look at NUON.tv
VM Labs has overhauled the official NUON website, www.nuon.tv with a load of new info, including release dates, MSRP's and box shots of all the games, among other info. Also included are multiple pictures of Hot Product's Cobra controller showing it in different colors. Be sure to check that out, and I've updated the appropriate pages here on NUON-Dome accordingly. See the what's new page for details.
Though there are a few discrepencies (which I've noted), here's the official release list from the nuon.tv website:

November
aMaze
Merlin Racing
Tempest 3000
(Freefall 3050AD?)
January 2001
Iron Soldier
February 2001
Freefall 3050AD
(aMaze?)
May 2001
MYST
---
Toshiba SD2300 to Include N-2-2
A press release was published today noting that the NUON-Enhanced Toshiba SD2300 will include Spatializer N-2-2 virtual surround sound software, as the Samsung DVD-N2000 does. View the entire press release here.
---
Plenty of Extivas
Latest word in from Homebyfive.com is that they've recieved yet another shipment, and now have plenty in stock. Maybe Samsung is finally pumping up production a bit.

What's better is that there's a place through Yahoo! Shopping that's selling the DVD-N2000 Extiva for even less than HomeByFive, if you can believe it. PriceShock.com has it for $305.24 with free shipping. That's the lowest price yet!
---
Informative Forum
The NUON Forum has had quite a few interesting posts lately. From Jeff Minter (Tempest 3000), to Phil from Miracle Designs (Merlin Racing), to Tony at TAKS (FreeFall), fans of NUON are finally getting some of the info we've been starving for. Head on over and check it out!
NUON Forum

---

HomeByFive.com Update

I've been informed that the new $318.95 price for the Exitva is here to stay at Homebyfive.com. The demand for the unit was so high that some orders had to be put on backorder, but that problem has been resolved and the units are on the way. Even better news, they received a shipment of 60 new DVD-N2000s today, have 50 ready to be shipped as soon as an order is placed, and even more on order. So if you've been weary of picking up an Extiva due to the price, now may be the time to go ahead and get it!

Any questions can be directed to Jason at 877-676-7100. Tell 'em NUON-Dome sent ya :-).

Hop to their listing for the Extiva right here.

---

NUON on the Cheap

Apparently since the Extiva is on backorder at Homebyfive.com they've lowered their already under-MSRP price to $318.95. Whether this applies to all orders or just those who've already ordered the machine is yet to be seen, though the lower price is definitely a good thing either way. The email they sent out to customers follows:

Dear HomeByFive Customer,

Because of the extended delay, we have lowered the price of the Samsung DVDN2000. It is now going for $318.95, which is the amount your card will be charged when we are ready to ship your DVD player out to you. Thank you for your patience, we are truly sorry for any inconvience this delay has caused you. If you have any other questions or concerns you can contact Tiffany or Jason at 877-676-7100 between the hours of 8AM and 11PM Pacific Standard Time. Thank you again for your understanding.

The HomeByFive Customer service team.

Thanks to Jay Silverheels for passing along the info.

---

YaKly Tidbits

None other than Jeff "YaK" Minter stopped by the NUON Forum today and left some interesting posts in his wake. Feast your eyes upon this:

T3K hi-score
Thursday, 17-Aug-2000 14:10:17

204.31.130.56 writes:

Just so's you know :-).

I just got my first score over a million. 1,200,949 points, to be precise. Just dropped right into the zone and caned it all the way up to level 63 :-).

Pulled off a major optimization yesterday, too. Nice framerate increase, play is more fluid. Cool.

I'm out at VM finishing this off. It'll be done within the next week or two, so I can go home to Flossie!

Re: Re: T3K hi-score
Thursday, 17-Aug-2000 14:44:27

204.31.130.56 writes:

No problem :-). I hope you enjoy it.

I'm changing level 63 though - all those Super Spikers make it just waaaay too hard.

Other levels you are gonna hate me for:

Level 32 (hey, Level 32 *has* to be a bastard, it's kinda trad after T2K :-) - "Occam's Mirror". You thought the pointy star in T2K was bad ;-)....

Level 60 "Now You Hate Me". Appropriately named :-).

Re: Re: T3K hi-score
Thursday, 17-Aug-2000 15:04:05

204.31.130.56 writes:

Well completion of T3K should occur in the next week or two. Dunno how long it'll take to get through manufacture and out to retail, hopefully not too long!

I'm certainly hoping to take back a couple of prelim burns that can play on the Extiva, one for me and one for T(NT), at the end of this trip.

I'll keep you appraised of my hiscores, give you lot something to aim at!

Although I reckon it won't be long before some of you start beating me at my own game ;-).

Re: Re: Re: Re: T3K hi-score
Thursday, 17-Aug-2000 15:45:31

204.31.130.56 writes:

I'm currently using one of the old-stylee in-house development sticks, which is a hacked stick from... er... another console ;-). It has analog as well as d-pad; you can use either, although analog obviously gives you a bit more control.

Of course I would love to support rotary, but whether that happens basically depends on someone coming up with a prototype some time in the next couple of weeks, so I can test with it, and I don't know if that will happen.

BTW, if anyone fancies a chat, I am currently logged in at chat.iongames.org, #nuon...



/
(:-) - Yak
/


---

Extiva Selling Like Mad

Samsung's DVD-N2000 seems to be doing remarkably well. Reports out from homebyfive.com reveal that they've received over 100 orders for the NUON-enhanced machine already, and that they cannot believe how successful the machine has been so far. I'm sure their under MSRP Price of $338.92 has something to do with that.

Visit the homebyfive.com page for the Extiva.

---

Extiva Tops Popularity Chart

Atop CNET's list of most popular DVD players on the site sits the Samsung DVD-N2000. This is great news for Samsung, VM Labs and NUONites alike, since it shows NUON is gaining a stronger presence in the public eye. Also of note is the Toshiba SD2200 in the #2 spot below it, which will be replaced by Toshiba's NUON-enhanced DVD player, the SD2300, when it's released.

---

Samsung Extiva DVD-N2000 Hits Stores

That's right - the first NUON-enhanced DVD player, the Samsung DVD-N2000 (aka "Extiva") has started trickling into stores, both online and retail. Check out the Info Section for a list of locations carrying the Extiva currently, and to find out a little more about just what NUON is and what it can do for your DVD player. Check out the NUON-Dome review right here!

---

Toshiba SD-2300 to Arrive at $299

According to a news story at etown, Toshiba's NUON-Enhanced DVD player, the SD-2300 is set to launch this Fall at a MSRP of $299 - $50 less than Samsung's Extiva. It's supposed to launch with a demo disk and "may or may not contain a well-known game," according to VM Lab Executive VP Paul Culberg. Also, unlike the Extiva, the Toshiba SD-2300 will not come with a game controller packed-in.

---

Extiva Receives CNET Editors Choice

CNET recently reviewed the DVD-N2000 model Samsung and spoke very higly of it, giving it an 8 out of 10. Citing the player's cool special-effects capabilities extensive audio/video outputs; good remote control, they say "Nuon technology gives this DVD player some of the coolest features we've seen to date."

You can read the review for yourself here.

CNET also did a video bit on the Extiva, and while the host seems a bit "in the dark" about NUON, it does provide a good glimpse at some of the features NUON provides. The streaming video can be seen here.