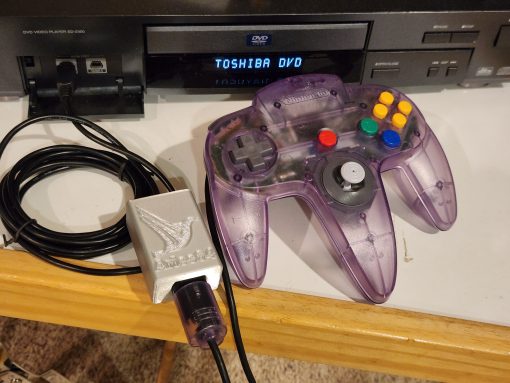 Pre-orders are now open for the Aries64, an adapter from Songbird Productions that allows NUON users to connect any Nintendo 64 controller to their NUON-compatible DVD players.
The first run is limited to 125 units and expected to ship beginning on March 15. According to a post from Carl Forhan of Songbird in the NUON-Dome Discord channel, sales have been brisk, with about 20 sold in the first hour alone.
To preorder yours, visit the product page on the Songbird website. I've got one on order and plan to put it through its paces, so stay tuned for a review here on N-D soon.
Here's the product description from the Songbird website:
Introducing the Aries64 for your NUON DVD game system! The Aries64 connects to the NUON controller port on your DVD unit on one end, and on the other end, you can plug in any Nintendo 64 controller (first party or third party) and use it on all your NUON games! Includes full support for one analog stick, D-pad, and all action buttons. The NUON button is mapped to the Z trigger.
The connector is a 4-pin firewire, and will fit snugly in the NUON controller port with the indented side up (see photos). The cable is approximately 7? long. The Aries64 has been confirmed to work on the Samsung N501 and Toshiba SD2300, and should work equally well on all NUON systems with controller ports.
Leave a Reply
You must be logged in to post a comment.