Free games and apps, playable on Samsung DVD-N50x and RCA machines only. For assistance with burning NUON.CD files to CD-R, please read the guide. These files will not work on the Samsung DVD-N2000 or Toshiba SD2300. Why Not?
NUON Development Tools & Utilities:
Boot Loader
Allows multiple games/apps to be loaded off of a single disc.

NUON SDK Release 2
Get this to create NUON programs using your PC.

Updated Libsynth.a (Updated 11/04)
Corrects a bug in the SDK that prevented the synth from working on open-platform apps.
NUON Emulator
Nuance, Riff's excellent PC NUON emulator. Good for testing work-in-progress code or for trying out commercial & homebrew games.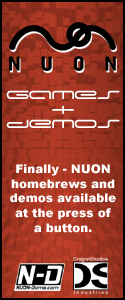 NUON-Dome and its contents are © 2000-2007 Kevin Manne and Wes Powell. All Rights Reserved. Reproduction of any content, writings or images, in whole or part, without permission is prohibited. NUON(tm) and the NUON logo are trademarks of Genesis Microchip, Inc. All Rights Reserved. This website is not affiliated with Genesis Microchip, Inc.