Space Invaders XL Review
by Marshall Carter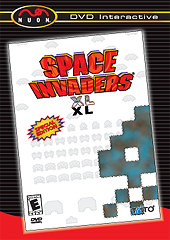 Overview: Retro-gaming, arcade classics, Atari, Space Invaders. These are terms that instantly take you back to the Golden Age of gaming, the days when Pac-Man & Donkey Kong ruled the arcades, and Atari was THE game in town. Enter 2001, and all this has changed. Retro-gaming is buzzword, Pac-Man and Donkey Kong are past their prime and some company called Microsoft is the new game in town, but there is a constant, Space Invaders. Appearing in its original arcade forms for NUON-enabled DVD players, some things can be left unchanged, and remain a potent mix of reflexes, simple gameplay and the desire for the now fabled 'High Score.'
Graphics - 2.5: To be honest, Space Invaders XL (Special Edition) is a real disappointment in the graphics department, not so much because we didn't know what was coming, but because of what it is in consideration to what the NUON technology is. What we have here is a port of a classic title being passed off as a Special Edition, an XL if you will, on a 128-Bit technology that remains to be fully utilized. Taken to that necessary step, the visual state of SIXL is a shame, from the title screen on. As for what it is, it's a faithful port of the original Taito coin-op (right down to the flashing 'Insert Coin'), with a couple of extra gameplay modes tacked on for good measure. Of these, the Versus Battle Mode is only a very slight grahical upgrade, with Time Attack on par with a PC Engine title. On a platform such as NUON, especially on the heels of true Space Invaders updates on the Playstaton and N64, there is no excuse.
Sound - 8.0: Sound is an area in which SIXL was given the proper treatment. While the original sounds like the original, right down to the 'blips' & 'bleeps,' the other modes have been given the gift of music. With 15 different tracks, there is variety, and it's notably well done. Including remixed versions of tracks from several Taito games (such as Darius) the music is very cool in an old-school, PCM, Mega Man sort of way, a way sure to appeal to a more, shall I say, aged game-player, such as myself. While the effects in all the modes are unchanged from the original, this is not a bad thing, as it seem to be attracted more to one's sense of nostalgia more than the archaic graphics.
Gameplay - 6.0: Space Invaders is Space Invaders is Space Invaders. No matter how I try to imagine it, I really can't think of a single, good way to advance the gameplay in any way that would still hold to the basic gameplay, aside from new weapons (moving aliens would turn SIXL into Galaga ;) It holdsup fairly well, and is still a blast to play, but the motivation of 'HIGH SCORE' isn't quite what it used to be. The other modes are competent, particularly the versus mode which adds several elements of modern puzzler to the mix (wipe out a row of invaders on your side, and their deposited at the top of the enemy), but all in all, there still isn't much to it. Then again, it is an arcade game after all, and that is al it ever tried to be.
Theme - 7.0: As with all games of its era, Space Invaders carries with it the memories of many of us, so with that comes a sense of nostalgia that lets us relive those moments whenever we play that special game (see the Seinfeld Frogger episode for reference ;) Space Invaders was the first video game I ever owned, a game I received Christmas of '87 with my NEW Atari 2600 Jr. While this kind of intangible seems a bit ridiculous to factor into a video game review, without that 2600, without that Space Invaders cart, I would probably never been into games like I am now, and hence not into NUON. I would not have bought Space Invaders XL. Sure, the game hearkens back to the 'Good Ol' Days' of videogaming, the gameplay is tried and true, the control is spot-on, and it's a whole lot of fun, but for many, just to be able to relive a moment of our youth on that expensive, new DVD player will be well worth the cost of admission.
Overall - 6.0: A great classic could have made a great update, but unfortunately, that's not really what Space Invaders XL was intended to be. Sure, they could have added a museum mode, added an additional version to the mix (I hear the PC Engine, Amiga and Saturn updates were all nice), or simply add an obscure Taito original or two from the same era, but when all is said and done, this is the classic, in all its original glory, rereleased for a new generation, not to mention some of the older, who are still young at heart. In an industry overrun by 3D fighting games, first person shooters and cinematic RPG's, Space Invaders XL exhibits what gaming was, and in a way, how it was better. It could very well be overlooked by many for faster, better-looking and more advanced fare, but for those who would rather stop and smell the roses, SIXL is a fresh blast from the past.
Score - 64%