RC de Go!
by Taito

Type: R/C Racing
# of players: 1
Levels: 14 Tracks
MSRP: $29.95
Get ready for some high intensity, pulse-pounding RC racing excitement! Jump into the action with a Quick Race, test your mettle in the Time Attack, or go the distance in Championship mode! Win big and customize your ride for the hottest RC on the track.
Features:
Tear up the track on 14 different courses-On road and Off.
Choose your car to fit the course-on road, off road or dune buggy RC cars!
Race against your own best time or just enjoy the scenery in Time Attack mode.
Sharpen your skills for the big championship in Quick Race.
Before becoming RC Champ you must choose your chassis, define your car body type and pick your course in Championship mode.
The harder the course, the bigger the purse! Score big cash and soup up your car in the Shop.
Trade in points for over 80 different parts to create the ultimate racing mean machine!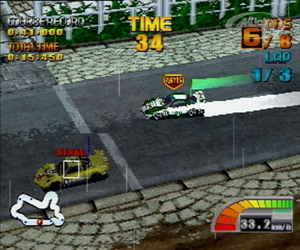 (Screenshots are from the PSX version)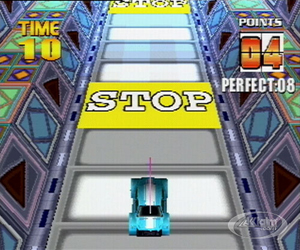 NUON-Dome and its contents are © 2000-2023 Kevin Manne and Wes Powell. All Rights Reserved. Reproduction of any content, writings or images, in whole or part, without permission is prohibited. NUON(tm) and the NUON logo are trademarks of Genesis Microchip, Inc. All Rights Reserved. This website is not affiliated with Genesis Microchip, Inc.