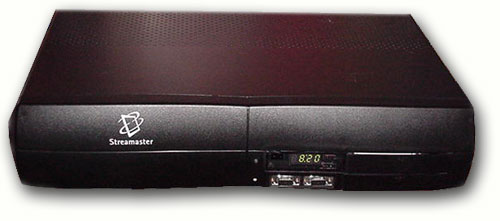 Type: NUON-Enhanced Development Reference Platform
Release Date: 1998

What is the BlackBird?
The BlackBird reference platform is a multimedia platform environment for consumer electronic hardware and software developers. It integrates media handling, interactive graphics, and multiband communications on a single platform. The BlackBird platform allows development of applications that integrate interactive multimedia, graphics, audio, animation, and full-motion video.
Key components of the BlackBird set-top unit (STU) include the following:


The motherboard includes a memory subsystem, communications and I/O interfaces, the Project X Media Processor™ (MMP-L3), and the MPC860 SAR PowerPC Quad Integrated Communications Controller (PowerQUICC). The PowerQUICC includes the PowerPC applications processor and the communications processor module (CPM).

A DAVIC A0 interface connector supports a network interface module (NIM). A NIM interfaces a video source, the MPC860 SAR, and media processor.

User interfaces include a keyboard, remote control, and front panel controls. Front panel control circuitry is implemented on a separate printed circuit board.

The rear panel includes connectors to the communications and I/O interfaces on the motherboard, as well as to the audio and video circuitry.
What part did the NUON processor play in the BlackBird architecture?
The BlackBird showcases the highly integrated NUON media processor™ developed jointly by Motorola and VM Labs. NUON provides support for Moving Picture Experts Group (MPEG) audio and video decode, 2-D and 3-D graphics, overlays and interactive audio Introduction to Blackbird synthesis. This media processor can also execute application software independent of the processor (i.e., standalone mode) with an operating frequency of 54MHz.
The media processor outputs video and audio to audio-visual peripherals, such as television, analog audio receivers, and Dolby® AC-3 decoders. The media processor also accepts high-level commands from the MPC860 for processing real-time nonlinear 3-D content. The highly scalable, flexible, and programmable MMP architecture is designed to include future standards and algorithms.
How is BlackBird different from the Streamaster 5000?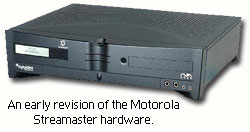 The BlackBird was intended for consumer electronic hardware and software developers, while the Streamaster 5000 was the device for the end-user. Companies such as Australia's TransACT Communications test-marketed the Streamaster 5000 with services such as Pay Television, Video-on-Demand, and Interactive Television, with NUON games being an option as well. Click here for an interview with TransACT about their rollout of the Streamaster platform.
What games and applications are available for the BlackBird?
A demonstration pack CD was included with the BlackBird that contained various demos, applications and games that could be run on the BlackBird system. In order to load the files, you need to connect the system to a PC either over a network or serial connection and transfer them via FTP. Once connected, there are a nice selection of applications you can try out, including:
Web Browser

The BlackBird uses Spyglass Device Mosaic 3.1, a full-featured, small footprint Web browser technology, designed to serve as an application platform for digital cable, satellite, wireless, and other non-PC products. Once I was able to find the function key layouts (page 1, page 2), I was able to use Spyglass to get around the 'net fairly easily. It was able to load up NUON-Dome and post a message to the N-D forums successfully, so the browser is still functional even by today's web standards.

The problem with the browser, though, is that it does not cache pages or graphics that it has previously loaded, making for a very tedious browsing experience even when connected over a broadband network. It's very similar to the Sega Dreamcast's browser in that respect. It's not something you'd use on a daily basis for your browsing, but it's still pretty cool to be able to do.

Games

Yes, there are a handful of demo games included with the software pack that you can play on the BlackBird. While nothing spectacular, you can have a game of Backgammon, Othello, Chinese Checkers or Matchbox (a memory-matching game) if you so choose. The games feature nice 2D graphics and have computer AI for solo play. Control with the included remote or IR keyboard is shaky at best, and my attempts to connect a serial gamepad were unsuccessful (the BlackBird doesn't have NUON ports for some reason), leaving the games as little more than a novelty.

Demos

There are a variety of small demo programs to try out, like the GUI menu system, a font test and a bitmap display. Basically just a means of showing what BlackBird can do.