CCAG 2004 Report
10/24/04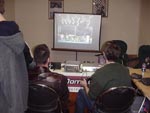 Two thousand and four has been a pretty good year for me getting out to shows and hauling some NUON gear to show off. For CCAG (The Classic Computing and Gaming Show), things were a bit more flexible than usual thanks to free table space and free admission for all. More space allowed more gear, and so rather than just show NUON stuff off I thought it'd be fun to take a Jaguar or two to hook up as well. This kind of snowballed into a proper JagFest, with us having our own separate room to fill up to our liking, and fill it we did. There were two N501's, one hooked up to a projector playing Tempest 3000 and Bust-A-Move 4 most of the day, and the other running a boot loader disc with a bunch of homebrew games (like Decaying Orbit) and SDK demo programs on it.
On the Jaguar side, I didn't get an exact count but I believe there were at least 7 fired up and ready to play at all times. I had two demoing the upcoming 3D Stooges/Force Design games Mad Bodies and Mighty Frog for the whole day. Reaction to both games was very positive from what I heard. People liked the two player mode in Mighty Frog and after a bit of instruction, most got the hang of Mad Bodies. Later on in the day I sat down and played MB to the first boss battle, which really starts to show off the game.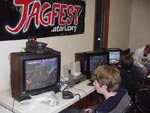 JaguarGod had one Jag + CD hooked up with various games running on it throughout the day. SoulStar, Varuna's Forces, Protector SE and more were seen running on that setup on and off. Further down we had Moose's Jaguar setup which featured Ultra Vortek, then down to Stephen Anderson's great display featuring T2K and his optical Rotary Controller and a two player BattleSphere network, along with a table FULL of classic Atari game consoles and computers.
JagWired Magazine set up shop in the JagFest room, and brought along an Alpine board loaded up with Phase Zero, a BJL Jaguar, and copies of Black Ice/White Noise rev 19. The little LCD monitor that the BJL Jag was hooked up to caught a lot of people's eyes and was indeed very cool.
Approximately 125 attendees filed into the Presbyterian Church that played host to CCAG throughout the day, and at times the JagFest area was pretty packed with people trying out games, chatting or just hanging out. By the 9 o'clock hour things started to die down a bit and we slowly started packing up to head out. But everyone seemed to have a good time, and I really enjoyed meeting and talking to everyone. Apparently the organizers of the show were happy with how it went and are planning on doing it again. Maybe the Fest will make a return visit next time as well!
Big thanks to all the N-D/JagFesters: cannon7371, cobracon, JaguarGod, Moose and Stephen Anderson. Unfortunately I didn't take too many pictures at the event, but here are the rest of what I have (the last 5 in this group were taken by Stephen):


Click here for the archived NUON-Dome/JagFest @ CCAG 2004 page.