Type: Classic Board Game
# of players: 1-2
Levels: ?
MSRP: $29.95
aMaze is based on the classic board game that challenges you to tilt the board in order to roll a steel ball through a nerve-racking maze of trap holes. Simple in theme yet elegant in graphic nature, aMaze is best described as an overall experience that is highly addictive, yet surprisingly relaxing. From the outset, aMaze was designed to be attractive to all types of gamers – from hard core to mainstream. aMaze is an engaging game for everyone.
Features:
True to life ball physics – roll, slide, slip and even bounce the ball to victory.
Easy to learn – no complicated button combinations to master.
Non-violent gameplay – appropriate for the whole family.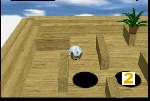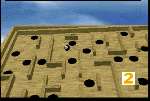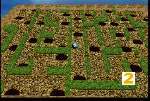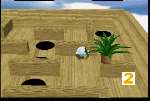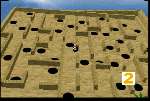 NUON-Dome and its contents are © 2000-2023 Kevin Manne and Wes Powell. All Rights Reserved. Reproduction of any content, writings or images, in whole or part, without permission is prohibited. NUON(tm) and the NUON logo are trademarks of Genesis Microchip, Inc. All Rights Reserved. This website is not affiliated with Genesis Microchip, Inc.