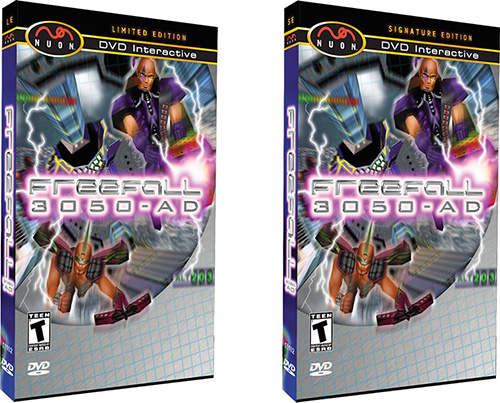 Today, Songbird Productions announced pre-orders for a limited re-release of FreeFall 3050 A.D., a game that went to retail production for the NUON DVD platform in 2000, but has recently been back in the spotlight after an originally-canceled Xbox port was unofficially released as open source, followed by an official port of the game released on Steam, both in 2019.
For NUON enthusiasts, this new Songbird version comes in two flavors:
Limited Edition ($74.95 until Oct 24, then $79.95):
Professionally replicated DVD including Amaray case and 28-page manual
Licensed from Total ArKade Software Ltd
Game is identical to the original version
Compatible with NUON IR remotes as well as NUON controllers
Manual upgraded with color interior
3 pages of original concept art included in the manual
Signature Edition ($99.95):
Includes all features above from the Limited Edition, plus:
SIGNATURE EDITION printed on the Amaray case insert
Hand-signed by Freefall 3050 AD producer Tony Takoushi
Includes 8.5″ x 11″ fold-out mini-poster and acrylic pin featuring Freefall 3050 AD artwork
Limited to only 50 units, limited to one per customer.
Additionally, the poster and pin are available as a separate purchase for $9.99.
Pre-orders are expected to ship in November 2022. For more information on the game, check out the NUON-Dome review, as well as some gameplay footage below from Atarian Web 2000 on YouTube:
Leave a Reply
You must be logged in to post a comment.