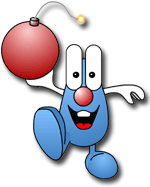 The graphical level editor for BOMB is now available for download on the BOMB Page. You will need to have Tcl/Tk installed on your machine, so head over to http://www.tcl.tk/ and install that before running the level editor. From there, follow the instructions in the readme or as can be seen here:
"The editor is pretty simple. After starting "blck.tcl", you have to specify the playfield size (max. 32). In the editor you can now select tiles and place them onto the field (drag&drop works, too). When placing teleporters, switches or teleport destination (crosshair) you need to select which one (0-5). For switch destinations (0/1 tile) you also need to specifiy the "on" and "off" state of the tile.

A "right-click" on switch destination shows the tile's "on" and "off" states. With the "Export" button a small window opens showing the ASCII representation of the level and the switches. Use Copy/Paste to add them to the "level.h". The "Import" button opens also a small window, where you can Copy/Paste from the "level.h". That's it."
Click here to check out a screenshot. Also, a bug was found in the "bomb.c" source code file, which has been updated in the source code downloads. Oh, and you'll also see on the BOMB Page that we're working on the high scores table, but it's not functioning properly just yet. So don't bother putting in any codes for now.

Next up, MMDN from the forums has put together 5 new levels for BOMB. You can download them from here, then unzip the levels.h file and replace it with the one found in the BOMB source code. Recompile using gmake and then burn the new NUON.CD file to check them out. Or just wait for the next release :)

MMDN also provided the BOMB character art for the DVD Cover and CD Label that we've put together. You can get those on the BOMB Page too.