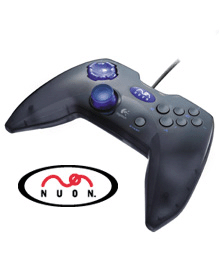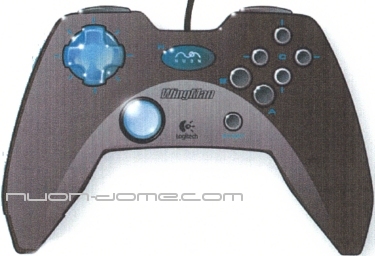 Have more fun with NUON Interactive Entertainment with the Logitech Gamepad for NUON. Doubling as a remote control, this versatile device lets you take advantage of the interactive gaming capabilities already built into your NUON-enhanced DVD player. Features an ultra-accurate mini - joystick for precise 360 degree movement in all NUON games.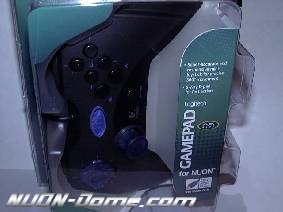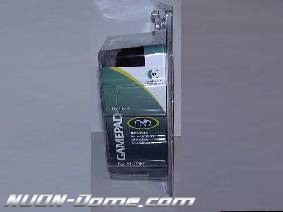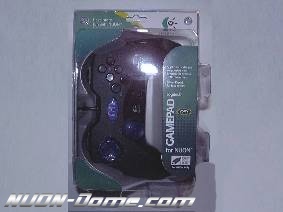 Features:
Super-accurate and responsive mini - joystick for precise 360 degree movement
8-way D-pad for fast action
New Industrial design, with the living room in mind
NUON button for control over added content and enhanced capabilities of NUON-enhanced DVD discs

D-Pad - Used to navigate around the screen, through menus or to move what is happening on the screen

Proportional Joystick Control - Precise analog control of all the action on screen. 360 degree movement to immerse you in your game

Nuon Button - For hybrid DVD disks. Use this button to call up extra added content only found on NUON Enhanced DVD's.

Start Button - This button will be used as a pause button. It will be used to stop a game already in progress. You can continue by pressing it for a second time.

Action Buttons (AB) - These buttons are your primary buttons. These control most of your primary actions, jumping, shooting, etc.

Triggers - These are secondary, the would control any secondary gun or alternative movement.

C Buttons - Are camera buttons. They can be used for Gaming functions (for dual joystick type of games), many times they are used for camera placement.

Extra Long Cord - Accomodates gamers sitting on their living room couch or in front of the TV.
For Immediate Release
January 4, 2001

Logitech Announces Partnership With VM Labs

Development of Products Supporting VM Lab's NUON™ DVD Technology Underway
Fremont, CA - Logitech (NASDAQ:LOGIY)(Switzerland:LOGN, LOGZ) today announced plans to develop products based on NUON™ Broadband and DVD technology from VM Labs. The initial product, a Logitech gamepad for NUON, is expected to be launched in the first quarter of this year. The company will have more specific product information and other announcements available at the VM Labs booth (#N223) at CES, January 6-9.
"We are continuing to move our products 'beyond the PC' and into the living room," said Ted Hoff, vice president and general manager of Logitech's Interactive Entertainment Division. "Our partnership with VM Labs gives us the opportunity to add additional functionality, in the form of a high-quality peripheral, to any entertainment device that incorporates NUON technology."
For Logitech, NUON provides an opportunity to expand the company's customer base into mainstream game products, going beyond an audience of hardcore gamers currently playing games on dedicated consoles and PCs. VM Labs is currently teaming with a number of hardware and software partners to deliver cutting edge interactive home entertainment. Motorola is launching NUON-enhanced Streamaster set-top boxes that will deliver the first broadband gaming. Toshiba and Samsung have both released NUON enhanced DVD players offering consumers a wide variety of new movie viewing features, as well as the ability to play games and display visual light shows while listening to music CDs.
Previously, "Ballistic" software came packed in with the Samsung DVD N2000 player and "The Next Tetris" game is part of the Toshiba SD2300 DVD player package. Initial NUON software titles began shipping in December, 2000. Numerous additional titles from Hasbro Interactive, Taito Corp., Sunsoft and others are expected to become available throughout 2001.
"NUON technology is embedded inside digital video entertainment products," said Paul Culberg, Exectuive Vice President,VM Labs. "Putting this kind of power into DVD players and set-top boxes creates new opportunities for interactive media experiences. Logitech's leadership in peripherals and game devices makes them an ideal company to develop accessories for NUON enhanced systems."
About Logitech:
Founded in 1981, Logitech designs, manufactures and markets human interface devices and supporting software that link people to the Internet and enable them to work, play, learn and communicate more effectively in the digital world. Logitech's interface products include Internet video cameras; input and pointing devices such as optical mice, corded and cordless mice, keyboards and optical trackballs; multimedia speakers; and interactive entertainment products such as joysticks, gamepads and racing systems.
With operational headquarters through its U.S. subsidiary in Fremont, California, and regional headquarters through local subsidiaries in Romanel, Switzerland, and Hsinchu, Taiwan, R.O.C., Logitech International is a Swiss public company traded in Switzerland under the symbols LOGN and LOGZ, and in the U.S. on the Nasdaq National Market System (LOGIY). The company has manufacturing facilities in Asia and offices in major cities in North America, Europe and Asia Pacific.
About NUON:
NUON is the technology behind the next generation of home video entertainment products. The powerful NUON media processor supports leading entertainment formats such as Dolby, MP3 and MPEG, improving the consumer experience with 128 bit processing. The NUON architecture provides the flexibility to support real-time upgrades for emerging content formats, as well as the digital rights management necessary for content providers. NUON transforms broadband set-tops and DVD players into total interactive entertainment systems with powerful movie playback features, NUON videogames and NUON enhanced movies. NUON can be found today in leading entertainment products including broadband set-top boxes from Motorola and DVD players from Samsung and Toshiba. NUON is a trademark of VM Labs, Inc. For more information about VM Labs or NUON, or to download artwork, please visit the website at http://www.nuon.tv
About VM Labs:
VM Labs is the developer and licensor of the NUON broadband entertainment platform, with applications including emerging broadband set-tops as well as cutting edge DVD players. The Company licenses its embedded semiconductor and software technologies to leading consumer electronics manufacturers, while licensing NUON authoring systems to movie and music studios, and interactive software publishers. VM Labs is a privately held company with offices in Mountain View, California, and Tokyo, Japan.
###
All trademarks are the property of their respective owners. For more information on Logitech and its products, visit the company's web site at www.logitech.com.
Contact for VM Labs:
BENDER/HELPER IMPACT
(415) 391-2994
Logitech:
Brian Ritchie, Logitech
brian_ritchie@logitech.com
(510) 713 4231