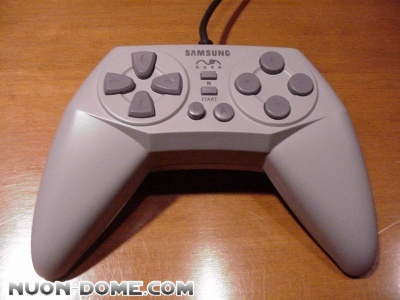 Type: Digital Controller
Release Date: Q4 2001
Availability: Pack-in with N591, etc.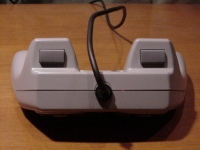 Here we have a look at the controller that is going to be (or already is) packed in with the Korean NUON DVD Player, the Samsung N591. As seen in various promo shots and in the photo above, the controller bears an uncanny resemblance to an original Sony Playstation controller - right down to the d-pad.
Upon first inspection the controller seemed OK, fit in the hand decently but the shoulder buttons felt slightly out-of-position. Rather than being right up on top of the controller, they're set back and down a little ways. Not exactly an instinctive place to put the L & R buttons, but with a little practice it's not bad.
Taking a closer look at the controller shows that while the C group of buttons are very easy to access, the A & B action buttons are right in the middle of the controller! Go on, scroll back up the page and take a second look - the two most-used buttons on the controller are jammed underneath the microscopic NUON and Start buttons. After giving the controller a fair amount of use, it's easy to say that this could possibly be the worst button placement on any controller I've used. You naturally want to rest your thumb on the C-Down button but you have to reach over to the middle of the controller to hit the A or B buttons. And, should you have to utilize one of the other buttons with your right thumb, be prepared to have to look back down at the controller to find where to place your thumb. Game controllers are supposed to assist your game playing, not handicap them.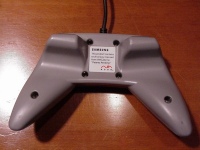 On the positive side, the D-pad does have a very good feel and is very much playable. And the c-group is nice and easy to access, after all. But that's about the only positive thing about the controller. After using this thing, the Logitech Gamepad will simply melt in your hand and you will realize just how ergonomic and well laid-out it is.
For a freebie pack-in, ok, it's better than using the remote. But not much. If this is your only NUON controller you'd be better off using it as your "second player" controller and going out and grabbing a better controller for main usage. Your thumbs will thank you.