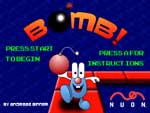 The new year brings us a great new version of BOMB, which now features 14 levels, a new gadget, title screen and more! Here's the full new features list:
14 Levels (thanks to MMDN for his 5 levels)
Improved camera movement
New gadget: "Spinach", allows hero to move bombs and mines for a limited time
Extra life after every 1000 points
New title screen (thanks to K3V)
Hero needs to be on a safe tile in order to complete the level
Many bug-fixes...
The source code has also been updated, along with the level editor to include all the new features and updates.

Finally, we're happy to report that the high scores list is now up and running, so either click on the banner above or head over to the BOMB Page here to get in on the action!