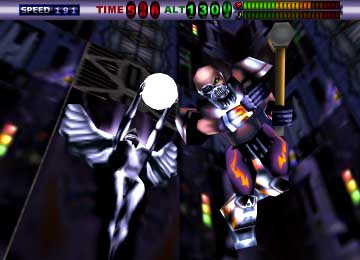 Total ArKade Software (TAKS) announced to NUON-Dome.com today that they've released an updated version of their NUON game, FreeFall 3050 A.D. for the PC and Xbox platforms.
"It's a straight port with updated/hi-res textures and a few more FX," says Tony Takoushi of TAKS. "The tunnel draw distance is w-a-y longer now with some really cool perspective shift as you drop faster that makes it f-e-e-l much faster, and framerate is solid 60FPS on Xbox and PC."
The game costs a mere $20 and will be available for purchase directly through TAKS beginning on April 9th. To place your order, contact Ttakoushi@yahoo.com.au.
Minimum requirements for the PC version are a 1.6 GHz processor and 64 MB video RAM. The Xbox version requires a modded Xbox and will not run on stock, off-the-shelf systems.
For more information on FreeFall, check out NUON-Dome's review of the game, or visit the Total ArKade Software website at www.taks.co.uk.
Posted on March 24th, 2007 by K3V
Filed under: NUON News