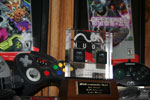 I knew it was on the way from the DSI Video Blog, but it was still pretty exciting to actually get the NUON Community Award for "best fansite" physically in-hand. From what I recall, these awards were originally given out by VM Labs when the Aries chips were finally manufactured, and contain two of the actual chips beautifully embedded in lucite.
For the community award, an engraved plate is mounted on the base and reads "NUON Community Award, Best Fansite, NUON-Dome.com, Kevin Manne."
Interestingly, the letter included with the award states that this is the "first NUON Community Award." Could more of these be coming to other prominent figures in the scene? Guess we'll have to wait and see, but for now I am very thankful for mine and have proudly placed it atop my shelf of NUON goodies, along with the cool Cross pen that was included with the award.
Thanks again to Scott and DragonShadow Industries, and good luck to any potential future recipients!
Posted on March 4th, 2007 by K3V
Filed under: NUON News