Type: NUON-Enhanced DVD Player
Release Date: Available Now
Pack-in: NUON Demo Disk with The Next Tetris (full)
MSRP: $299
Downloads: Firmware | Manual
Features:
NUON ports on the front panel, allowing easy connection of NUON peripherals such as a game console
A 10-bit, 27MHz video DAC
Component video, S-video and composite video outputs that operate in parallel, enabling the SD2300 to be connected to more than one TV for multi-room viewing
Compatibility with 24bit/96kHz audio
HDCD
An advanced remote control and Quick Menu navigation
Quick Thoughts:
While I don't own the Toshiba SD-2300 player, I have seen the unit in stores and read reports on it from others online who have bought it. It seems like a quality player overall (I hear the zoom is quite smooth on it), but it's lacking some of the features found in the Samsung Extiva DVD-N2000. For example, the VLM in the Toshiba features only 8 effects total, while the Extiva has 100+ (these were apparently cut due to concerns about the VLM effects inducing seizures). Also, there is no pack-in controller on the Toshiba, but the remote does seem to be quite good and the joystick on it felt better than the one on the Samsung. Another nice plus on the Toshiba is the flip-down cover for the NUON ports on the front, as opposed to the small cover that is completely removed from the Samsung to expose the NUON ports.
The player does come with a NUON Demo disk, like the Extiva, but you have to mail in a card to receive the disk. The good news is that Toshiba owners get a full copy of Hasbro Interactive's "The Next Tetris" included on their demo disk, a game which is otherwise unavailable.
For me, I'm completely happy with my Samsung NUON player. But, the Toshiba SD2300 has the benefit of wider availability and a more reputable name amongst videophiles, which will prove to be a benefit to its success. Had Toshiba left all the VLM effects and packed in a NUON controller, it would have had the advantage with it's SD-2300. But, as it stands the Samsung seems to be a better value since they can both be had for about the same price.
Hardware Specs:
The SD2300 Includes all the Toshiba Standard Features Plus:
VIDEO
ColorStream® Component Video Output
10-bit 27MHz Video DAC with High-Resolution Filtter
540 Lines Horizontal Resolution
PLUGE
AUDIO
HDCD® Decoding and Precision Filtering
Built-In Dolby® Digital and DTS® Compatible Digital Output
One Pair of Analog Audio Outputs
Spatializer® N-2-2™ Virtual Surround Sound
Virtual Light Machine®
Front Panel NUON® Expansion Ports
CONVENIENCE
16-Power Picture Zoom with Digital Filtering
DVD/CD/NUON® Disc Playback
DVD/CD Text Compatibility
Virtual Remote Control
Remote Confirmation
Angle Viewer
Preview
Strobe
Picture Capture
Quick Menu
NAVI Menu
All Toshiba DVD Players have the following standard features:
VIDEO
10-bit Video DAC
Video Black Level Expansion
S-Video Output
Composite Video Output
Parallel Video Output
AUDIO
24-bit PCM Audio Compatible (minimum 96kHz)
Dolby® Digital & DTS® Compatible
Coaxial Digital Audio Output
Dynamic Range Control
CONVENIENCE
4-Power Picture Zoom
Parallel A/V Outputs
X2 Playback
x2, x8, x30 Forward and Reverse Scan
1/8, 1/4, 1/2 Slow Motion: Forward and Reverse
DVD-Video/CD Playback
Parental Lock
Time Search
Icon-Based On-Screen Displays
Bit-Rate Meter
Camera Angle Select
Multi-Language Select
Multi-Subtitle Select
Title Stop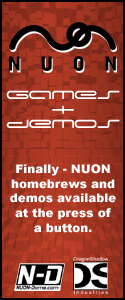 NUON-Dome and its contents are © 2000-2007 Kevin Manne and Wes Powell. All Rights Reserved. Reproduction of any content, writings or images, in whole or part, without permission is prohibited. NUON(tm) and the NUON logo are trademarks of Genesis Microchip, Inc. All Rights Reserved. This website is not affiliated with Genesis Microchip, Inc.