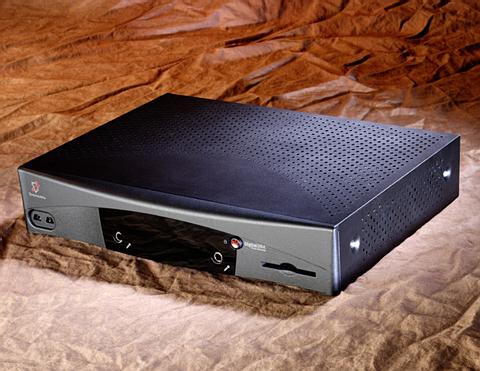 Type: NUON-Enhanced Broadband Set-Top Box
Release Date: ?
Pack-in: ?
MSRP: $???

Features:
Interactive Television
Video On Demand
Music On Demand
Video Recording
Video Telephony
Web Browsing
Home Gateway Services
Support for Multiple TVs
Karaoke
Interactive Gaming
E-mail
E-commerce
For Immediate Release
January 5, 2001
NUON technology powers new broadband services via Motorola Streamaster 5000™ Advanced set-top Box

NUON delivers multi-media entertainment capabilities in set-tops deployed by Blockbuster Entertainment, Enron Broadband Services, Aliant Telecom and TransACT Communications
Consumer Electronics Show/LAS VEGAS, NV --VM Labs' NUON™ technology is the multimedia power behind Motorola's Streamaster™ 5000 line of advanced set-top boxes, bringing a new level of broadband entertainment to the mass market. Service providers Blockbuster Entertainment, Enron, Aliant Telecom of Canada and Australia's TransACT Capital Communications Pty have separately announced their decision to deploy the NUON-enhanced Streamaster 5000 to deliver broadband interactive services to customers on two continents.
NUON technology brings full compatibility with NUON video games, and NUON-enhanced movies and music titles. The highly-flexible, 128-bit NUON media processor provides the horsepower to support existing open-standards, while being versatile enough to anticipate new content formats. NUON core mediaware already provides broad support for leading entertainment formats, including MPEG video with enhanced features, Dolby Digital™, MP3 and Spatializer 3D audio, MIDI music and powerful 2D/3D graphics. NUON authoring systems and guidelines enable video game, movie and music content developers to target NUON-based set-tops, whatever the delivery medium -- broadband, broadcast or DVD.
The NUON-enhanced Streamaster 5000 is one of the first advanced set-top boxes designed to enable service providers the capability to deliver high-quality audio and video, together with three-dimensional interactive content across a broadband pipeline into the living room. Further, Streamaster 5000 enables such advanced consumer features as digital-quality broadcast television, high-speed Web access, 3-D games, video and music-on-demand, karaoke and on-line shopping.
Blockbuster (NYSE: BBI), a publicly traded subsidiary of Viacom, and Enron Broadband Services, a wholly-owned subsidiary of Enron (NYSE: ENE), will use the Streamaster 5000 for trial deployment in their video-on-demand entertainment service announced last summer.
Aliant Telecom will deploy the Streamaster 5000 to deliver digital broadcast television, Web access, email services, an interactive program guide and digital audio channels to customers of its VibeVision service in Atlantic Canada, marking the first commercial deployment of the Streamaster 5000 in North America.
TransACT Capital Communications Pty Limited will use the Streamaster 5000 to begin offering digital-quality broadcast television, video-on-demand, web access and email via VDSL services in February 2001 to subscribers in Canberra, Australia.
"NUON Technology helps enable Streamaster 5000 to provide consumers with powerful audio and video features plus interactive games as an important element of delivering broadband entertainment services," said Jacqueline Beauchamp, director and general manager, Multimedia Systems Division, Motorola's Semiconductor Products Sector. "Motorola looks forward to working closely with VM Labs to provide compelling technology, content and services to enable the telcos' success."
"Broadband is the next logical step in the evolution of the NUON business model, and one that will generate new revenue streams for both VM Labs and its partners. Manufacturers, service providers and content developers can all take advantage of NUON's power, flexibility, and open standards support." said Richard Miller, CEO, VM Labs. "NUON provides our customers with a long-term cross-media platform strategy bringing them the assurance of compatibility, a fast response to emerging standards, and a competitive feature-set for the consumer."
About NUON:
NUON is the technology behind the next generation of home video entertainment products. The powerful NUON media processor supports leading entertainment formats such as Dolby, MP3 and MPEG, improving the consumer experience with 128 bit processing. The NUON architecture provides the flexibility to support real-time upgrades for emerging content formats, as well as the digital rights management necessary for content providers. NUON transforms broadband set-tops and DVD players into total interactive entertainment systems with powerful movie playback features, NUON videogames and NUON enhanced movies. NUON can be found today in leading entertainment products including advanced set-top boxes from Motorola and DVD players from Samsung and Toshiba. NUONÔ is a trademark of VM Labs, Inc. For more information about VM Labs or NUON, or to download artwork, please visit the website at HTTP://WWW.NUON.TV
About VM Labs:
VM Labs is the developer and licensor of the NUONÔ broadband entertainment platform, with applications including emerging broadband set-tops as well as cutting edge DVD players. The Company licenses its embedded semiconductor and software technologies to leading consumer electronics manufacturers, while licensing NUON authoring systems to movie and music studios, and interactive software publishers. VM Labs is a privately held company with offices in Mountain View, California, and Tokyo, Japan.
VM Labs currently teams with a number of hardware, software and peripheral partners. NUON-based DVD players from Toshiba and Samsung already offer consumers a wide variety of new movie viewing features, such as the ability to use the menu while the movie plays, powerful zoom and pan, ultra-smooth forward and reverse shuttles, specialized film formatting and simultaneous multi-angle playback. NUON DVD players also have the ability to play games and display visual light shows while listening to music CDs.
About Motorola:
Motorola, Inc. is a global leader in providing integrated communications and embedded electronic solutions. Sales in 1999 were $33.1 billion. For more information, please visit the Motorola Web site at http://www.motorola.com/.
###
MOTOROLA, the Stylized M Logo and all other trademarks indicated as such herein are trademarks of Motorola, Inc. â Reg. U.S. Pat. & Tm. Off. Dolby Digital and Dolby AC-3 are trademarks owned by Dolby Laboratories. Java is a trademark of Sun Microsystems used by permission.
Contact for VM Labs Incorporated:
Bender/Helper Impact
Linda Meyers
linda_meyers@bhimpact.com
(415) 391 2994
Lee Hall
lee_hall@bhimpact.com
(770) 879 8970
For Motorola:
Bill Schnell, Motorola, Inc.
Email: b.schnell@motorola.com
512-996-5495