Toxic Avenger
from Troma Entertainment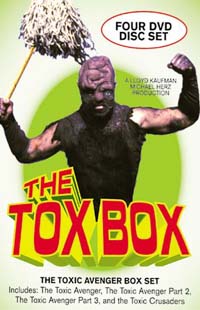 Back in 2001, there were rumors that the fourth disc of the "Tox Box" Toxic Avenger box set would be NUON-Enhanced. Here is a quote from DVD Talk (from a report at the Chiller Theatre Expo May 11, 2001) that makes direct reference to it:
"After a couple circuits around the main ballroom, I met up with Ronni "Raygun" Thomas of Troma Entertainment. He's the fella responsible for making the two-disc Terror Firmer set kick so much hiney. And while I rested my dogs, Thomas lit a cigarette and filled me in on some exciting new releases from Troma. First, we discussed the Toxic Avenger box set due this Summer. It'll feature the first three films, plus a NUON-enhanced fourth disc with all sorts of goodies (including Toxic Crusader toons). Will there be an open slot for the future release of Citizen Toxie: The Toxic Avenger IV? That's still being debated. They might even need more than one place holder, especially if Thomas' plans for another two-disc gut punch become reality for Citizen Toxie (due early 2002). Regardless, fans will surely celebrate the DVD debut of Part 3 (also NUON enhanced) and the newly mastered Director's Cut of Part 2. The set will also include a booklet featuring excerpts from Lloyd Kaufman's book All I Need to Know About Filmmaking I Learned from the Toxic Avenger."
On a related note, NUON sponsored the TromaDance Festival back in 2001. From the NUON-Dome news archive:
Lloyd Kaufmann Welcomes you to TromaDance 2001. NUON has been announced as asponsor of the second annual TromaDance Festival to be held in Salt Lake City, and Park City UT, January 25 and 26, 2001 respectively.

TromaDance is the first film festival wholeheartedly devoted to filmmakers and fans. Unlike every other film festival, TromaDance does not charge filmmakers to submit their films. Entrance to all screenings is free and open to the public. Also, there are no VIP reservations or preferential treatment regarding films, panels, or parties of any kind given. The organizers of TromaDance believe films are meant to be seen, especially when it comes to new filmmakers. Art…in all its forms… is for the people!

Along with the unique film festival, get a first hand look at why NUON is total video entertainment with live demonstrations of NUON Interactive DVD.
Lloyd Kaufman from Troma also appeared at the VM Labs booth back in 2000 along with with Sgt. Kabukiman and The Toxic Avenger. They gave away autographed copies of Toxic Avenger DVDs.