Samsung DVD N-505
By Ratko Jovicic
Features:
MP3 Support
152 VLM Effects
Support for CDRs
NUON Enhanced A/V Processing System
Convergence Cockpit User Interface
Moving Zoom Display System (1x - 15x)
Multi-Angle Thumbnail Display
Multi-Picture Strobe Display
Integrated HDCD ® Decoder System
Component Video Output Terminals
DTS ® Compatible Optical and Coaxial Digital Audio Output Terminals
Advanced 10-Bit Video DAC
High Speed High Linearity 96kHz/24 Bit Audio Converters
Universal Joystick Remote Control
Next Generation NUON Enhanced DVD Video Player with Aries 3 Nuon CPU
Click on picture to enlarge

This is the first European Samsung Nuon compatible DVD player. It came in nice box with manual, remote controller (same as N 501), cables and batteries. There is no demo CD in the box and also there is no game controllers because Samsung N-505 has no ports for game controllers. It is locked to region 2 for DVD. This unit is produced in Korea in December of 2001. Almost all technical info are almost the same as for Samsung DVD - N 501 (except region code, voltage, PAL support and gameports) so I will not repeat it again.











N705 package?


Another interesting thing - my N-505 came in N-505 box but it is packaged in N-705 package!! Look at the picture! As I know there is still no N 705 available but maybe this means it is in production...





| | | |
| --- | --- | --- |
| | | On the right side of N 505 is a jog/shuttle which enables fine moving (frame/by frame or faster) through movies. It works perfectly with DVDs but you can't go back with VCDs. |
| | | |
| --- | --- | --- |
| On the left side there is a sticker at position where you can find game controller ports on other Extiva models. Also here is phones connector along with phones volume controller. | | Click on picture to enlarge |
| | | |
| --- | --- | --- |
| This is Nuon main board from N 505. It seems to be standard Nuon motherboard (I think it is the same for all European Nuon players). On the left side is Aries 3 (as I remember on previous Nuon chips there was a Motorola logo, but here I can only find that is made in Taiwan. Above Aries 3 is firmware in standard DIL package and it is in socket! So it is possible to change firmware without flashing procedure (if you have another EEPROM). | | |
| | | |
| --- | --- | --- |
| Firmware in flash EEPROM | | Revision 02 of motherboard! |
| | | |
| --- | --- | --- |
| | | Backside of N 505 - from left to right: Digital audio out (optical and coaxial), stereo analog audio out, video out (composite and S-VHS) and SCART (standard RGB). |
| | | |
| --- | --- | --- |
| I'm very satisfied with N 505. I tried Tempest 3k and Iron Soldier 3 and they work perfectly. No freezing or crashing in IS 3 demo mode! I also tried Nuon Demo disc (Spring 2000) and everything works fine. Even Nuon SDK projects - Ambient monsters and Pacman! Only drawback of N 505 is lack of gameports - but I'm sure it is possible to add game ports (there are empty places both on Nuon mainboard and on "Extiva-joy" PCB. Only question is - are game ports disabled in firmware. I will know answer soon ;) | | Click on picture to enlarge |
| | | |
| --- | --- | --- |
| | | This is "Extiva-joy" PCB in N 505. Places for flat cable and game port connectors are empty, but PCB is there... |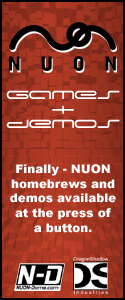 NUON-Dome and its contents are © 2000-2007 Kevin Manne and Wes Powell. All Rights Reserved. Reproduction of any content, writings or images, in whole or part, without permission is prohibited. NUON(tm) and the NUON logo are trademarks of Genesis Microchip, Inc. All Rights Reserved. This website is not affiliated with Genesis Microchip, Inc.