Warrior Digital Gamepad

By Hot Products, Inc.

Features:
10 Button Controller
Digital D-Pad
A and B Button
Left and Right Fire Buttons
Start and Select Buttons
10 Foot Cable with NUON™ Connector
Durable Construction for Longer Life
Sized to fit children's and adult hands.
The NUON™ Warrior™ Digital Gamepad is a superb controller with the basic functions required by NUON™. It's small size, comfortable fit and sturdy construction makes this an excellent controller for all sized hands.
Featured in this controller is an Digital D-Pad for those games supporting digital functions. This controller is extremely durable and will withstand many years of play.
Additional Photos: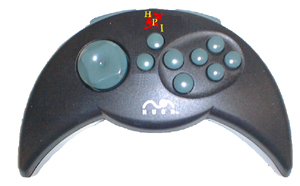 This is the color scheme used for the Warrior that was packed-in with the
Samsung DVD-N2000. It, however, sported a Samsung logo instead of the HPI logo.