ProElite Digital/Analog Controller
By Hot Products, Inc.
Unreleased Hardware

Features:
Innovative Joy-Ball™* 360° Analog Joystick Digital D-Pad
Start Button
"N" Button
A Button
B Button
C-Pad Buttons
Left and Right Fire Buttons
Memory Card Slot
Memory Card Sold Separately
10 foot cable with NUON connector
Durable construction for long life.
Sized to fit children and adult hands

The NUON™ Pro-Elite™ is an excellent, fully featured controller for the NUON™ system. It's small size, comfortable fit and sturdy construction makes this an excellent controller for all sized hands.
This fully packed controller is designed with all the bells and whistles of a controller within easy and fast reach of all sized hands. This is a superb controller.
It's Memory Card slot is durable and ready for memory cards. As well, this controller is designed with the LCD-Memory Card in mind.
Designed and Endorsed by VM Labs as the NUON™ Controller Standard
Additional Photos:

Click to Enlarge

Click to Enlarge

Click to Enlarge
Prototype HPI ProElite from CES 2001
From the Thomas Solutions NUON Photo CD, Click here to purchase.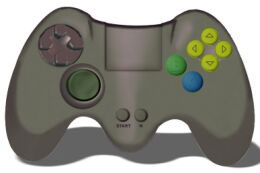 Pre-Production drawing mock-up.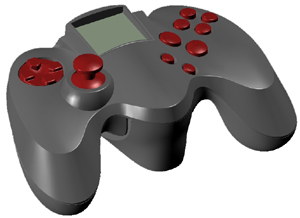 Early prototype renders, with full joystick instead of the planned Joy-Ball analog.