Memory Card
By Hot Products, Inc.
Unreleased Hardware

HPI introduces the NUON™ Standard Memory Card for use with your memory capable NUON™ controllers and software. This memory card is designed to allow you to save your games and data from your NUON™ enhanced DVD Player. Pocket size, Stackable and transportable to any other NUON™ memory compatible peripheral.
The NUON™ Standard Memory Card will come with a varied range of capacities. Used to save your games and data.
Additional Photos: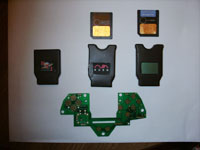 Click to Enlarge
Prototype NUON memory cards from CES 2001
From the Thomas Solutions NUON Photo CD, Click here to purchase.