Dr. Dolittle 2
from Twentieth Century Fox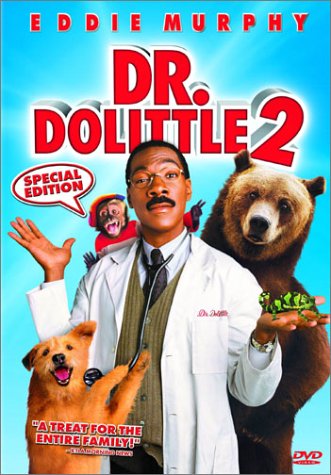 Type: N-hanced DVD
Genre: Comedy
Run Time: 96 minutes
Aspect Ratio(s): Widescreen anamorphic - 1.85:1
MSRP: $26.98
Release Date: October 23, 2001




Features:
Region 1 encoding (US and Canada only)
Color, Widescreen, Closed-captioned, Dolby
Commentary by director Steve Carr
Theatrical trailer(s)
Two Extended Scenes With Optional Commentary
Making Movie Magic with Rhythm and Hughes
5 Story Board Comparisions
HBO Special - "A Kid's Guide to Grizzlies"
"Wild On The Set" Featurette
Music Videos
Available Audio Tracks: English (Dolby Digital 5.1), English (Dolby Digital 2.0 Surround), French (Dolby Digital 2.0 Surround)
Package Type: Keep Case
NUON Features:
Viddies
Viddies are dynamic bookmarks of scenes from the film along thematic lines.
Gamma Zooms
This exploring activity lets the studio pre-select interesting still frames and highlight behind-the-scenes stories and points of interest. Utilizing NUON's revolutionary Zoom and Pan the viewer can zoom in and pan on interesting scenes in the movie.
Hyper Slides
On a standard DVD player, Dr. Dolittle 2 displays a still gallery of pictures from the movie production. The Hyper Slide feature brings the stills gallery to life by contrasting the art director's concept with the movie director's implementation.
Scene Selection
This navigation feature lets the viewer browse through chapter selections with the aid of full-motion scaled video in an interface window. Dynamic descriptive text is automatically displayed in a window that gives a brief synopsis of the current chapter. By selecting a chapter name from the list, the video is updated to that chapter and the user may select full screen viewing.
NOTE: The NUON-Enhanced Dr. Dolittle 2 was later included in a 2 pack bundle with the original Dr. Dolittle movie, as pictured here: