The Adventures Of Buckaroo Banzai
from MGM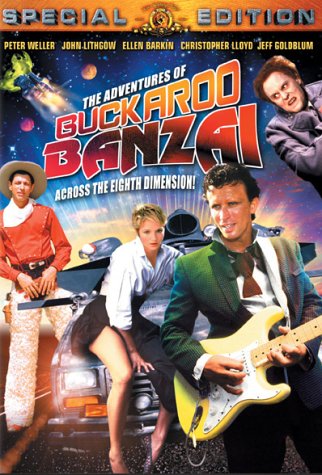 Type: N-hanced DVD
Genre: SciFi
Run Time: 102 minutes
Aspect Ratio(s): Anamorphic 16x9 Widescreen
MSRP: $19.98
Release Date: January 4, 2002
Get it at amazon.com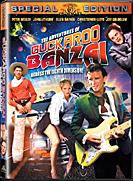 Buckaroo Banzai is a rock-star/brain-surgeon/comic-book-hero/samurai who along with his group, the Hong Kong Cavaliers, must stop evil creatures from the 8th dimension (all named John) who are trying to conquer our dimension. He is helped by Penny Pretty, who is a dead ringer for his ex-wife, and some good extra-dimensional beings who look and talk like Jamaicans.
Features:
New Anamorphic Transfer With 5.1 Audio Track
Exciting Nuon Enhanced Special Features
Audio Commentary By Director W.D. Richter
Rare Prologue Sequence Starring Jamie Lee Curtis
Never-Before-Seen Deleted Scenes, Restored With Director's Audio Commentary
Making-Of Documentary Featuring Director W.D. Richter, John Lithgow, Peter Weller, Jeff Goldblum And More!
Cool Storyboard And Behind-The-Scenes Featurette
TV Spots, Theatrical Trailers
Lots Of Easter Eggs To Make Cult Fans Happy
Languages: ENG (Stereo) FR (Mono)
Subtitles: FR, SP
Want to learn more? Check out the Buckaroo Banzai FAQ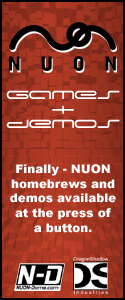 NUON-Dome and its contents are © 2000-2007 Kevin Manne and Wes Powell. All Rights Reserved. Reproduction of any content, writings or images, in whole or part, without permission is prohibited. NUON(tm) and the NUON logo are trademarks of Genesis Microchip, Inc. All Rights Reserved. This website is not affiliated with Genesis Microchip, Inc.