Bedazzled
from CBS/Fox Home Video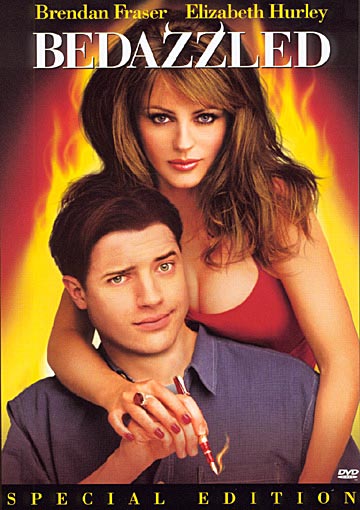 Type: N-hanced DVD
Genre: Comedy
Run Time: 93 minutes
Aspect Ratio(s): Widescreen Anamorphic - 2.35:1
MSRP: US$26.98/C$41.98
Release Date: March 13, 2001
Get it at amazon.com
Reviews: DVD Authority DVD File DVD Review
Features:
DVD Encoding: Region 1
Layers: Dual
Available Audio Tracks: English (Dolby Digital 5.1), English (Dolby Digital 2.0 Surround), French (Dolby Digital 2.0 Surround)
Available subtitles: English, Spanish
Region 1 encoding (US and Canada only)
Color, Closed-captioned, Widescreen, Dolby
Commentary by director Harold Ramis
Commentary by Elizabeth Hurley and Trevor Albert
Opinion:
Finally, the first NUON-Enhanced DVD, "Bedazzled" starring Brendan Fraser as the computer-nerd looking to catch the attention of the girl of his dreams, and Elizabeth Hurley as, well, Satan.
Honestly, this movie didn't spark the least bit of interest in me until it was announced that it would contain NUON Enhancements - then I knew I had to have it. And suprisingly, the movie wasn't bad and actually had me laughing out loud more than a few times. Brendan "Encino Man" Fraser was actually quite good and showcased his talents nicely by donning various personas throughout the movie. Hurley plays a devishly seductive Devil and does it quite well.
But I'll spare you my half-witted Movie review (refer to the links above for better analysis of the film), and we'll move on to the *important* aspect of this DVD, the NUON Enhancements.
NUON Enhancements:
Booting up the disk in NUON Enhanced mode brings up a special "Loading NUON Features" screen (see right). Ahh, finally some NUON content in my movies.
After Navigating through the menus a bit you'll come to the NUON Enhanced Features section, where you are presented 4 options: Viddies, Gamma Zooms, Hyper Slides and Scene Selection.
Viddies
Viddies are small clips of the movie, pre bookmarked and arranged into themed sections. For example, the "Liz Hurley Fashion Show" shows a few seconds of video for each time Ms. Hurley changes outfits (and that's quite a lot) throughout the movie. Also available are Digest versions of the two directors commentaries, highlighting the best and most interesting parts of the commentary tracks, reducing the overall viewing time. This gives you a quick once-over on the commentary without sitting through the not-so-interesting parts.
Gamma Zooms
With Gamma Zooms, you can check out pre-selected still shots which you can zoom/pan on your own, or use to view certain interesting parts of the movie. To me the most interesting useage of this was to show some of the cardboard cutout people in the stands during the Basketball sequence. There is also a set of Zooms that show off various tatoos on the characters at different stages in the movie. Can you say 666 tattoo?
Hyper Slides
Instead of just viewing a gallery of images and concept artwork as most normal DVDs present, Hyper Slides allow you to compare the still images to what was used in the movie itself. For example, you can check out a drawing of the Liz Hurley billboard and see where exactly it appeared in the movie. Or, perhaps some high-resolution versions of the various logos in the movie (Diablos, Company Logo) and see how they compare in action.
Scene Selection
NUON allows a much easier and intuitive way to select the scene of the movie you're looking for. Instead of just showing a repeated clip or still shot of the chapters, browsing through the menu of chapters results in the movie starting to play right there in a smaller window. From there, once you've found the part you're looking for, you can just continue on by switching it into full-screen mode. This smooth and seamless process makes a nice improvement on chapter selection.
Screen Saver
One interesting note is that if you leave your player idle for a bit, you get an interesting treat as the standard DVD Video logo (on the DVD-N2000) is replaced by the Bedazzled logo and bounces around the screen accordingly. Seeing this makes you realize just how much potential NUON-enhancements have to customize just about everything, based on the movie you're watching.
And finally, pressing "stop" on your remote brings up a NUON logo and some legalease regarding the content on the disk. Nice to see a big NUON logo made it in there somewhere :-).
Summary:
So, while the NUON Enhancements aren't something you "can't live without," they do have merit and show promise. The ease with which the enhanced Scene Selection works proves that NUON provides more than bells and whistles - it adds much-needed improvements to make interacting with movie content easier. Future movies from the rumored 5 studios who are making NUON Enhanced DVDs should take this into account. While fun extras are definitely cool (can you imagine Hyper Slides, Viddies and Gamma Zooms on a Kevin Smith flick?), enhancing the overall experience on the DVD is just as great.
Sometimes it's the small details that make all the difference.
Bring 'em on, VM Labs.