Planet of the Apes
from Twentieth Century Fox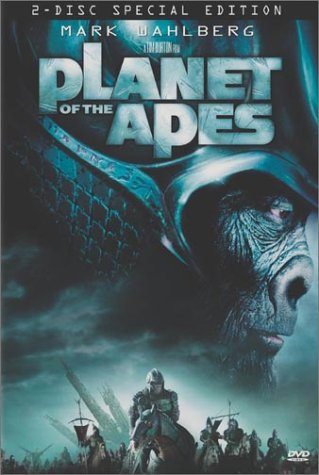 Type: N-hanced DVD
Genre: Action/Adventure
Run Time: 124 minutes
Aspect Ratio(s): Anamorphic Widescreen 2:35:1
MSRP: $29.98 ($46.98 Canada)
Release Date: November 20, 2001
Get it at amazon.com


---
In the year 2029, interstellar reconnaissance missions are relegated to chimpanzee pilots from the Space Station Oberon in deep space. On such a mission, a chimp loses communication and vanishes from the radar. Fearless astronaut Leo Davidson launches a rescue mission and, following a malfunction, lands on a jungle-like planet not unlike the Earth. To Leo's astonishment, English-speaking apes and primitive humans inhabit the planet. Following his capture by the apes and subsequent escape, Leo assembles a small band of defiant humans and empathetic apes in an attempt to re-establish contact with Oberon, but his focus changes following an unexpected discovery. Armed with this new information, Leo leads a rebellion against an overpowering ape force that will result in freedom or complete annihilation.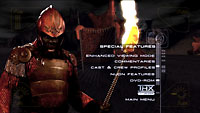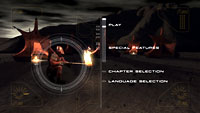 Standard Features:
Disc one:
An enhanced viewing mode that enables the consumer to choose when to go behind the scenes, search cast and crew biographies, or view the special effects
An audio track by composer Danny Elfman
Two Easter Eggs
DVD-ROM with screenplay/script/storyboard comparison
NUON-enhanced features such as Viddies and Cool Zooms
Animated menus

Disc 2:

The HBO "First Look" special
Five extended scenes
Multiple featurettes – "Simian Academy (Ape Movement)," "Face Like A Monkey" (A Day in the Make-Up Chair), "Costume Tests," "On Location in Lake Powell," "Chimp Symphony Op. 37" (Behind The Scenes On Scoring The Film), and "Swinging From The Trees" (Stunt Work)
Makeup, group and movement tests
A gallery of multi-angle features that lets the viewer climb into the director's chair for several key scenes
Theatrical trailers, a music video, and television spots
A concept art and design gallery
Additional DVD-ROM features of a novella and links to Web sites
NUON Features:
Viddies
Viddies are dynamic bookmarks of scenes from the film along thematic lines.
Gamma Zooms
This exploring activity lets the studio pre-select interesting still frames and highlight behind-the-scenes stories and points of interest. Utilizing NUON's revolutionary Zoom and Pan the viewer can zoom in and pan on interesting scenes in the movie.
Hyper Slides
On a standard DVD player, Planet of the Apes displays a still gallery of pictures from the movie production. The Hyper Slide feature brings the stills gallery to life by contrasting the art director's concept with the movie director's implementation.
Scene Selection
This navigation feature lets the viewer browse through chapter selections with the aid of full-motion scaled video in an interface window. Dynamic descriptive text is automatically displayed in a window that gives a brief synopsis of the current chapter. By selecting a chapter name from the list, the video is updated to that chapter and the user may select full screen viewing.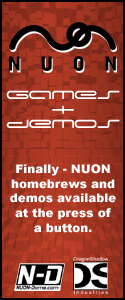 NUON-Dome and its contents are © 2000-2007 Kevin Manne and Wes Powell. All Rights Reserved. Reproduction of any content, writings or images, in whole or part, without permission is prohibited. NUON(tm) and the NUON logo are trademarks of Genesis Microchip, Inc. All Rights Reserved. This website is not affiliated with Genesis Microchip, Inc.